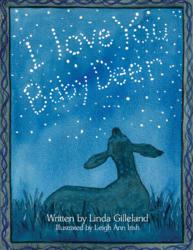 Love conquers all. It crosses all boundries, speaks all languages, connects all hearts.

- Stephanie Lisa Tara, award-winning children's book author, I'll Follow the Moon
Dallas, TX (PRWEB) March 21, 2012
New children's book "I Love You Baby Deer" (Brown Books Publishing Group), by former elementary school teacher Linda Gilleland in Uvalde, Texas offers young readers an eye-opening look inside the magnificent power of love.
Beautifully illustrated by Leigh Ann Irish, "I Love You Baby Deer" tells the touching true story of how love, friendship, and trust blossomed between a beautiful young girl, Grace, and the orphaned baby deer she and her family took in and named Pineapple.
"I Love You Baby Deer" follows their adventures as Pineapple grows older with her newfound, loving family and best friend, Grace.
Although a personal story, the reality that Grace and Pineapple eventually have to say good-bye teaches readers the painful and beautiful lesson of letting go.
Aaron Carrara, president, Texas Association for the Education of Young Readers says,"'I Love You Baby Deer' is packed with a powerful message"
Gilleland reminds readers that we often have to part with those we love in order for them to enjoy the life they were meant to live.
"'I Love You Baby Deer' illustrates this beautifully," says Stephanie Lisa Tara, award-winning children's book author, 'I'll Follow the Moon.' "Love conquers all. It crosses all boundaries, speaks all languages, connects all hearts."
Originally, Gilleland wanted to write this story as a gift for her granddaughter, Grace. She wanted Grace to remember her legacy.
Through this story, Gilleland wanted Grace to remember what life is really all about. Now this touching story is her gift to readers everywhere.
"I Love You Baby Deer" conveys the important message that this same faith in love, trust, and friendship that can exist between people and animals can be carried over into our individual lives as well. That in time, people everywhere, will be given the opportunity to make life nicer for someone else.
To learn more visit: http://www.ILoveYouBabyDeer.com