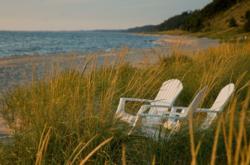 The secret's out and Grand Haven doesn't mind. We invite you to come and discover our secret beaches for yourself.
Grand Haven, Michigan (PRWEB) March 18, 2012
Travel + Leisure names Grand Haven, Michigan as one of the Best Secret Beaches on Earth. They define the list of beach hideaways, "as understated, unexpected and – at least for now - under the radar." Internationally, exotic locations like Cirali Beach, Turkey, Salema, Portugal and Koh Lanta, Thailand were selected. Nationally, secret beaches include Bethany Beach, Delware, Puako, Hawaii, Grand Haven, Michigan and Cayucos, California.
"We have a great selection of public beaches, including the more popular Grand Haven State Park and City Beach, but we also have more secluded locations like Rosy Mound Natural Area and Kirk Park," states Marci Cisneros, executive director of the Grand Haven Area Convention and Visitors Bureau. "We take great pride in our natural resources and we work hard to keep them healthy, beautiful and publically accessible; which is why this recognition is so appreciated."
There is no doubt, that the natural assets of the area played an important part in the selection process. A combination of golden soft sand beaches, towering sand dunes, lush green forests and beautiful blue waters of Lake Michigan made the Grand Haven area a stand-out. It was, however, the collective assets of the community that secured its place on the list. The trolley cars, the two and half mile boardwalk and the historic twin 19th century lighthouses, along with the abundant recreational opportunities, that made this classic American beach town one of only four destinations in the nation to make the list.
For more information on the Travel + Leisure article go to http://www.travelandleisure.com/articles/best-secret-beaches-on-earth.
For visitor information on the Grand Haven area go to http://www.visitgrandhaven.com or contact the Grand Haven Area Convention & Visitors Bureau at 800.303.4096.