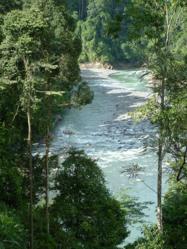 You don't have a tour guide showing you where to look, you are actually living it!
Denver, CO (PRWEB) March 17, 2012
La Ruta Adventures just released their top five must do activities during your Costa Rica adventure vacation. Experiencing these activities can make all the difference between returning home with a camera full of pictures as opposed to returning home with the adrenaline and rush of adventure still racing through your veins.
Leaving Costa Rica knowing you just experienced life to the fullest is La Ruta Adventures specialty. Anyone can come down to Costa Rica and be led around by a tour guide but they want to know where is the adventure in that?
Here is their list of the top 5 must do activities to get the most out of your Costa Rica adventure vacation:
#5: Coast-to-Coast Mountain Biking
Don't just take a jungle walk with a crowded group of people. Instead, strap on your helmet and race through the tropical jungle while experiencing technical down hills, stream crossings and lots of hike-a-bike sections.
#4: : Pacific Coast and Caribbean Sea Surf Venture
Don't limit your surfing experience to just one location. By venturing to both the Pacific Coast and Caribbean Sea you will ride the best waves Costa Rica has to offer. Jaco is the perfect starting point to begin your surfing adventure. Because its located within two hours (estimated) of San Jose Airport, it provides you the opportunity to surf your first day there. Jaco has fun left and right peaks. It is also located very close to Hermosa and Playa Escondida, two breaks that regularly have superb surf. Located along the Caribbean Coast you will find Puerto Viejo. It is best known for what has been called the heaviest wave in Costa Rica: Salsa Brava. This is certainly a competitive wave ideal for surfers with expert abilities. Yet there are great beginner and intermediate level spots as well. Puerto Vieo is the perfect spot for surfers looking to avoid the more commercialized Pacific coast.
#3: Waterfall Trail-Run
If a person knows where to look they can discover some of the best running trails Costa Rica has to offer. These unique trails are adrenaline packed and will lead you to a breathtaking waterfall surrounded by lush forest and spectacular oceanic views.
#2: Pacuare White Water Rafting
The Pacuare River is ranked as the top 5 rivers in the world to white water raft. 18 miles of class three and class four rapids helped earn the river its prestige. Surrounding the river is a variety of tropical flora and fauna, exotic wildlife and cascading waterfalls.
#1: Leatherback Sea Turtle Excursion
Experiencing the Tortuguero National Park is a dream come true for anyone who has a passion for nature and wildlife. Tortuguero means "Turtle Catcher" and the park is home to 3 different species of turtles (Olive Ridley Turtle, Green Turtle and the Leatherback Turtle). This is one of the few parks that walking may not be the best way to explore all of its offerings. The use of boats, canoes, or kayaks will help reach multiple points where Sea turtles gather to nest. On the way to Tortuguero there is a boat available for exploring the Amazon like region of Costa Rica. Be on the look out for exotic flora, fauna, toucans, monkeys, turtles, herons, caymans, and iguanas.