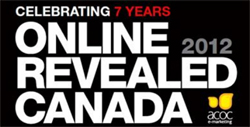 We are excited to be a part of this project and look forward to bringing value to our attendees and to the industry as a whole with this important benchmarking initiative. Alicia Whalen, Co-Founder, A Couple of Chicks e-Marketing and Online Revealed
Toronto, ON (PRWEB) March 16, 2012
The 7th Annual tourism marketing conference Online Revealed Canada, held in conjunction with the Hotel Association of Canada Conference and the Canadian Tourism Marketing Summit held last week in Toronto, brought together over 500 delegates, 50 presenters and 40 sponsors from across Canada and the US to highlight the changing trends in marketing tourism online to the Canadian hospitality industry.
New to the conference this year was the Canadian Online Benchmarking Report for Tourism Destinations, an innovative new project that will enable participating Canadian tourism organizations including; Visitor and Convention Bureau's, Provincial Marketing organizations and small to mid-sized tourism marketing organizations (DMO's) to benchmark their online success against each other, and against other international tourism destinations.
The initiative was brought together by Miles Media, A Couple of Chicks e-Marketing and Tripadvisor as a pilot project mirrored after similar reports done in New Zealand and the US. "We are excited to be a part of this project and look forward to bringing value to our attendees and to the industry as a whole with this important benchmarking initiative." says Alicia Whalen, Co-Founder of A Couple of Chicks e-Marketing and Online Revealed. The initial report generated 14 participating Canadian DMO's and will be the first report of its kind in Canada. Initial results were presented at the conference in a session "Benchmarking Canadian Destinations to Each Other & The World" with subsequent reports and a broader program to follow.
The conference agenda featured keynotes from Facebook Canada's Steve Irvine, Google Canada's Nikki Germany, Leonard Brody of Clarity Digital Group and Jowi Taylor's "Six String Nation Guitar" presentation. Cutting-edge online marketing workshops included "The LGBT $7 Billion Travel Marketing", "Choosing a Digital Agency", and "Exploration of Digital Marketing Trends in Travel", to name a few. The Canadian e-Tourism Awards were held at a special luncheon presented by the Canadian e-Tourism Council and Online Revealed Canada.
Attendees and sponsors of Online Revealed include hotels, hotel brands, hospitality management companies, travel suppliers, destination marketing organizations, attractions, marketing agencies, web developers, media companies and travel intermediaries from across North America.
About Online Revealed Canada
In just 7 years, Online Revealed Canada and A Couple of Chicks have produced 7 online marketing conferences with an agenda that includes educational workshops, keynotes and panel discussions, all driven by the industry for the industry. The event is produced by leading online marketing firm, A Couple of Chicks e-Marketing, http://www.acoupleofchicks.com in association with Big Picture Conferences. Online Revealed Canada is an annual Canadian conference with a mission to educate the tourism industry to be successful on the World Wide Web. Visit http://www.onlinerevealed.com for more information.