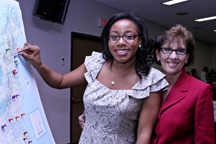 Nashville, TN (PRWEB) March 18, 2012
Fourth-year medical students around the country and those here at Meharry Medical College learned where they will begin their careers as physicians, Friday during the nationwide event known as Match Day.
Fifty-three percent of Meharry's fourth-year students matched in the primary care fields of: Internal Medicine, Pediatrics and Family Medicine. (The rate increases to 56% when Obstetrics and Gynecology is included in the primary care category).
Twelve percent of Meharry students matched to residency programs in Tennessee including Vanderbilt Medical Center, University of Tennessee Health Science Center and Nashville General Hospital at Meharry Medical College where seven students will enter training programs.
"We are pleased that 53% of our students are pursuing primary care fields and that a significant number of our students will continue to serve right here in Tennessee," said Charles P. Mouton, M.D., M.S., Dean, School of Medicine and Senior Vice President for Health Affairs.
Meharry Medical College students successfully "matched" in dozens of residency training programs from coast to coast including such prestigious academic health centers such as Mayo Clinic, Brigham & Women's Hospital, Cleveland Clinic, Baylor College of Medicine and Case Western.
More than 30,000 applicants apply for the match to find a position at a U.S. teaching hospital where they will undertake a three to seven-year period of specialized training. Match Day is the culmination of a process where medical school students across the country submit their top three choices for residency programs to the National Resident Matching Program (NRMP), a nonprofit organization established in 1952 to create a fair mechanism to match the preferences of applicants to U.S. residency positions. The Match uses a computerized mathematical algorithm, designed to produce a best result by aligning the preferences of applicants with the preferences of residency programs in order to fill the thousands of training positions available at U.S. teaching hospitals.
Match rates can be an indicator of career interest among U.S. medical school seniors. Primary care physicians are the main source of health care for most Americans, yet there is a concern that there will be a shortage of primary care doctors in the coming years. Meharry's match rate in primary care is among the highest in the nation.
Students such as Reuben Battley, 2012 Class President, who successfully matched into pediatrics at Our Lady of the Lake Regional Medical Center in Baton Rouge, La., are encouraged to pursue primary care during their training at Meharry. Many Meharry graduates enter the primary care fields, because they are devoted to fulfilling Meharry's mission of caring for underserved and vulnerable populations.
"Match Day means everything to me," Battley said. "It's always been my dream to be a pediatrician and this is the first day my dream has actually come true. I'm excited to enter the field of pediatrics and continue the legacy of Meharry."
Meharry's overall match rate was 88 percent for the 2012 class of graduating seniors.