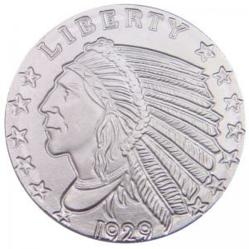 San Diego, CA (PRWEB) March 18, 2012
At the request of numerous customers, Liberty Coin & Precious Metals, located in San Diego, CA, now stocks fractional silver coins. These coins offer protection against inflation and hyperinflation now threatening the global economy in the face of economic uncertainty.
While today silver trades at only $32.50 an ounce, many experts predict that it could trade as high $60.00 an ounce by year's end due to Federal Reserve Quantitave Easing policies. With silver at high prices, fractional rounds could make an excellent option for those individuals who prior purchased 90% junk silver in bulk. They might even one day be as coveted as the fractional gold bullion coins now trading for all-time high premiums. The new fractional rounds, offered by Liberty Coin & Precious Metals, offers the advantages of junk silver (US coinage pre-1964),
but with investment grade purity.
Many experts are predicting a possible currency collapse involving the US dollar. In such an event, it is highly advisable that individuals have alternative forms of money. Historically, silver and gold have offered one such solution times of economic crisis. That's why pure silver in fractional form is the way to go.
The coins come with the classic Indian Head gold coin design on the obverse and reverse, with "one troy ounce" stamped into the reverse. They are easy to store and highly valuable. Many people consider the junk silver to be an excellent option in the event of a barter situation, and surely so too could these fractional rounds be considered such.
For a short time, Liberty Coin & Precious Metals is happy to offer our customers these fractional coins for only $1 over spot. This price makes these coins a low-premium yet investment grade silver coin, excellent as a store of value or investment.