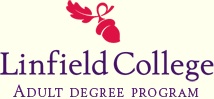 An accelerated online RN to BSN program gives registered nurses an opportunity to advance their education, and ultimately their careers, in a fast-paced curriculum, designed so they can also continue to work
McMinnville, Ore (PRWEB) March 20, 2012
Linfield College has launched its accelerated Online RN to BSN degree program, which helps qualified students complete their RN to BSN degree in 12 months. Designed to aid both recent associate degree graduates who are newly licensed and experienced registered nurses who want to return to college, this online degree program, offers an accelerated approach to a Bachelor of Science in Nursing.
The newly offered accelerated RN to BSN program now enables qualified students to complete the nursing courses in three semesters, after completing the prerequisites. A capstone course includes the required clinical experience. The new RN to BSN curriculum places an increased emphasis on quality, safety, technology, and healthcare reform.
The accelerated program is designed for both full-time and part-time students. Linfield College students often enroll with a variety of commitments to family, work and more. Most of the coursework can be completed online, allowing for needed flexibility and convenience demanded by registered nurses to advance their careers and education, while continuing to work.
For an RN working full-time, the curriculum allows for a BSN degree to be completed in 15 months as a part-time student. The RN who is not working full-time or is newly licensed and has yet to begin full-time work, may devote full time to the education to complete the BSN degree in 12 months.
"An accelerated online RN to BSN program gives registered nurses an opportunity to advance their education, and ultimately their careers, in a fast-paced curriculum, designed so they can also continue to work," said Dr. Neal Rosenburg, Associate Dean of Nursing for Distance Education at Linfield College. "Our innovative program is built upon recent significant changes in healthcare, nursing practice and educational theory."
The RN to BSN online degree program at Linfield College is provided by the Linfield-Good Samaritan School of Nursing, accredited by CCNE, in partnership with the Linfield Adult Degree Program. Students enrolled in Linfield's accelerated online RN to BSN program have access to many of the same resources in-class students receive, including tutoring and the university library, through an online format. Additionally, financial aid, grants and loans are available to all eligible students.
To be eligible for the Linfield online RN to BSN program, a student must be a registered nurse with an unencumbered license, have at least a 2.75 GPA in prerequisite and general education courses and provide a letter of reference from their supervisor. Many of the prerequisites and general education courses are completed in the associate degree in nursing. The other degree requirements include statistics, nutrition, social sciences, and arts and humanities, all of which are offered online through Linfield's Adult Degree Program.
So why wait? Enroll today and reserve your spot for the upcoming semester. Linfield advisors are available to help you with additional information.
About Linfield College Adult Degree Program
Chartered in 1858, Linfield College is one of the first colleges in the Pacific Northwest and is regionally accredited by the Northwest Commission on Colleges and Universities. The Division of Continuing Education's Adult Degree Program offers adults the opportunity to earn a bachelor's degree or certificate in both online and hybrid (combination online and classroom) settings.
Online programs offered by Linfield College Adult Degree Program include an accounting degree, management degree, marketing degree, social sciences degree, RN to BSN degree and international business degree and certificates in accounting, human resource management and marketing.