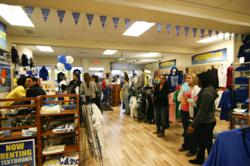 Although we were the first company to offer textbook rentals at UK, we didn't want to stop pushing the envelope.
Lexington, KY (PRWEB) March 19, 2012
Aligning with their goal to connect even further with college students, eCampus.com has launched their flagship brick and mortar bookstore at the University of Kentucky. Located at 395 South Limestone in the heart of campus, the eCampus.com University of Kentucky Bookstore aims to offer innovative services and unique products to set it apart from traditional campus stores. "Although we were the first company to offer textbook rentals at UK, we didn't want to stop pushing the envelope." explained eCampus.com President and CEO Matthew Montgomery, "We wanted to build a refuge for students to call home throughout the entire semester. Where other campus businesses shun student study groups and post anti-loitering signs, we built a comfortable study area with free Wi Fi where students can hang out all day if they choose. We even put in a pop-a-shot machine so students can play a few rounds in between classes." Students can earn a discount on their purchase depending on what score they achieve on the arcade basketball game. The flagship store also offers limited edition apparel, such as the We Want 8 t-shirt. They are even giving away fifty of these exclusive t-shirts at their Madness on Lime event on March 21st. Students can stop by and listen to live music from local student country artist Jordan English or participate in the store's pop-a-shot tournament and free giveaways.
Harkening on their commitment to provide better services and products for students, eCampus.com introduced a new line of officially licensed NCAA college clothing just in time for the tournament. Offering a huge selection of apparel from over 400 schools, the company aims to provide traditional bookstore amenities with an ecommerce twist—free UPS shipping on all college clothing items. From jerseys and shorts to designer lines from Alyssa Milano, eCampus.com has a wider selection than any campus bookstore; allowing customers to shop from any NCAA school instead of being limited to items from their local team. eCampus.com wants to enhance students' NCAA tournament experience by giving away a 3D LCD HDTV and 20 other daily prizes in their Game Day Giveaway. The sweepstakes is hosted on the company's Facebook page and lasts until the National Championship Game on April 2nd.
In the spirit of innovation, eCampus.com is the largest online college textbook retailer to offer college apparel on their site; increasing relevancy 365 days a year instead of the first couple weeks of the semester. With a physical presence at the state's largest university, the textbook retailer has their finger on the pulse of the college market. They will be able to use this knowledge to keep up with the latest campus trends and provide the most pioneering features to this prized demographic.
About eCampus.com
Since its founding in July of 1999, eCampus.com has grown into a major online retailer providing cheap textbooks for college and high school students. eCampus.com's stated mission is to provide the easiest, fastest, and cheapest way for college and university students to rent textbooks, buy textbooks and sell textbooks. eCampus.com believes the Internet buying experience should be fun and that shopping for textbooks should be as fast and convenient as possible. The company makes a personal commitment to every customer that eCampus.com will be the best source for everything they need.