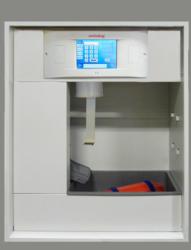 We have a zero-error expectation and this system aids in that effort
Denver, Colo (PRWEB) March 20, 2012
Swisslog, a leading provider of automated materials transport and medication management solutions for hospitals, today announced that Methodist Le Bonheur Hospital in Germantown, Tenn., has installed Swisslog's new patent-pending Whisper Receiving System to quiet pneumatic tube system deliveries in the hospital's blood bank.
Methodist Le Bonheur's blood bank was recently redesigned to lower noise levels, enabling staff to concentrate on vital blood testing and blood-product preparation. Reducing noise is a top priority for hospital staff and administrators.
The Whisper Receiving System significantly reduces noise that occurs when a carrier arrives at a pneumatic tube system station. In a setting where ambient noise is controlled, carrier delivery in a Whisper-equipped station was 12-14 dB quieter than a conventional station equipped with older technology. Whisper is an example of Swisslog's commitment to ongoing technological innovations of its pneumatic tube system to meet the evolving needs of hospital clients.
"Our blood bank area seems much quieter since the Whisper Receiving System was installed," said Pamela Dickey, the hospital's blood bank manager. "We need to keep the sound level low to enable our technicians to meet the patient-care requirements expected by our hospital. We have a zero-error expectation and this system aids in that effort."
In addition to reducing noise, the Whisper system also enables softer carrier arrival, resulting in improved protection and product integrity for highly sensitive items. The landing cushion is removable for easy cleaning, improving station availability when spills occur.
Swisslog Healthcare Solutions is the leading supplier of logistics automation solutions for healthcare facilities. Swisslog has installed automated materials transport and medication management systems in more than 3,000 hospitals around the world, including more than 2,000 in North America. Swisslog offers total systems design, manufacturing, installation and customer support providing a complete supply chain management approach to the logistics challenges of hospitals. The North American division of Swisslog Healthcare Solutions is based in Denver, CO.
About Methodist Le Bonheur Healthcare
Methodist Le Bonheur Healthcare (MLH) is an integrated healthcare delivery system based in Memphis, Tenn. Founded in 1918 by The United Methodist Church to help meet the growing needs for quality healthcare in the Mid-South, MLH has grown from one hospital into a seven-hospital system that also includes a home health agency, ambulatory surgery centers, outpatient facilities and physician practices serving the Memphis and Mid-South area.
Methodist was recently named the best hospital in Memphis by U.S. News and World Report. Methodist Le Bonheur Healthcare has consistently been named one of the Top 100 Integrated Healthcare Networks in the country.
About Swisslog
Swisslog is a global provider of integrated logistics solutions for warehouses, distribution centers and hospitals. Its comprehensive services portfolio ranges from building complex warehouses and distribution centers to implementing Swisslog's own software to intra-company logistics solutions for hospitals.
Swisslog's solutions optimize customers' production, logistics and distribution processes in order to increase flexibility, responsiveness and quality of service while minimizing logistics costs. With years of experience in the development and implementation of integrated logistics solutions, Swisslog provides the expertise that customers in more than 50 countries rely on.
Headquartered in Buchs/Aarau, Switzerland, Swisslog currently employs over 2,000 staff in about 20 countries worldwide. The group's parent company, Swisslog Holding AG, is listed on the SIX Swiss Exchange (security number: 1232462, Telekurs: SLOG, Reuters: SLOG.S). For more information, visit http://www.swisslog.com.