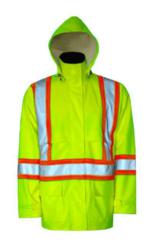 all road workers or construction workers operating within the right of way will be fined if not wearing the proper class 2 or 3 attire
Destin, FL (PRWEB) March 17, 2012
In January 2010, the American National Standards Institute (ANSI) revised the American National Standard for High-Visibility Safety Apparel and Head wear. In December 2009, the Federal Highway Administration (FHWA) published the long awaited Manual on Uniform Traffic Control Devices (MUTCD) 2009 revision. They require all workers within the right of way or work zone to wear high visibility apparel that meets ANSI 107 performance Class 2 or Class 3.
After December 31, 2011, all road workers or construction workers operating within the right of way will be fined if not wearing the proper class 2 or 3 attire. The fine for non-compliance can weigh heavy on a full work crew. This new law not only impacts federal-aid highways, but also state, county, city, and all local roads.
Disaster Relief Supply is looking to help business owners by offering a large supply of "Viking" ANSI and MUTCD compliant class 2 and 3 high visibility safety attire. The Viking line of apparel, from distributor Alliance Mercantile, is top-quality hi-viz gear highly regarded by construction and road workers nationwide.