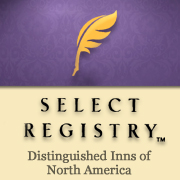 Leaves are coming out. Tulips are blooming. It even smells like summer.
Marshall, MI (PRWEB) March 17, 2012
Inns and bed and breakfasts have their fingers crossed for a jump start on the summer travel season as a recent warm spell shatters temperature records across the United States.
"It's been pushing 80 degrees almost every day this week," said Kathryn Hoar, owner of The Sheppard Mansion inn in Hanover, Penn. "This could definitely kick start our travel season."
Chicago broke two daily record-high temperature records in a row this week, reaching the upper 70s at O'Hare International Airport. The National Weather Service forecast for the area has temperatures nearing 80 degrees into next week as well.
At the Inn at Irish Hollow, a country bed and breakfast about 150 miles west of Chicago, innkeeper Matthew Carroll has been running the air conditioners in guest rooms, just days after running the heat. "Our guests are out hiking in shorts and tee shirts," he said. "Leaves are coming out. Tulips are blooming. It even smells like summer."
Carroll said the gorgeous weather is triggering the "summer alert" in travelers' minds, and his inn is seeing a small surge in bookings for Memorial Day weekend and beyond.
The Ripplecove Inn & Spa, an upscale Canadian inn about 20 minutes north of the Vermont border, reported a similar uptick in May bookings. That is welcome news for Ripplecove's owner, Jeffrey Stafford, whose winter bookings were at their lowest since 1985. "This was the winter that never happened," said Stafford, who counts on skiers visiting nearby resorts to fill his rooms. He added that surrounding golf courses will mostly likely open before April 1, "which is just unheard of."
The South Hills Golf Club, a stone's throw from the Sheppard Mansion in Pennsylvania, has been open since early March. Hoar reports that the course has been steadily busy the last few weeks. Last year, the course did not open until April.
Hoar said that although it's too early to tell if the warm spell will help her inn's bottom line this season, it is obvious that visitors are in a positive mood. "Good weather motivates people to get out and do things," Hoar said. "That will never change."
ABOUT SELECT REGISTRY
Select Registry™ Distinguished Inns of North America represents nearly 350 of the finest country inns, luxury B&Bs, and unique small hotels across North America — the very best the industry has to offer. Established more than 40 years ago, Select Registry sets the standard for excellence with the longest continuously running inspection program in the B&B industry.
Inns applying for membership receive rigorous periodic inspections as do existing member inns. Independent inspectors with years of hospitality experience arrive anonymously, spend the night and evaluate the inn. No other online directory or organization of innkeepers has a comparable inspection program, establishing Select Registry as the benchmark for quality. Each member property is unique and showcased in the Select Registry Guidebook. With more than 400,000 copies available as gifts to guests, the guidebook is the largest publication of its kind in the travel industry. For more information, visit http://www.selectregistry.com.
###