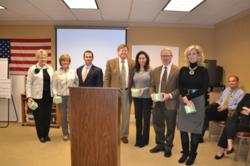 that high mark we should all strive for
Columbus, GA (PRWEB) March 19, 2012
Each year the Columbus Board of Realtors recognizes top real estate professionals who have reached exceptional production levels in the housing market with the Circle of Excellence (COE). Waddell Realty of Columbus is proud to announce their 7 Agents who were awarded this prestigious honor by the board for 2011.
Allen Parham, Partner and Managing Broker at Waddell Realty, says, "We are very proud of our agents for working so hard on this important goal in their career. And this year we so excited to announce that Waddell has 7 recipients who achieved the Circle of Excellence, Sandi Green, Mary Varner, Gina Glover, John Bunn, Sandi Haskins, Cynthia Winkler and Reynolds Bickerstaff."
With the Real Estate business being so volatile, this achievement is challenging especially in this economy, and it's an award agents should be recognized for earning. Circle of Excellence recipient Cynthia Winkler says, "It's the standard in our industry, that high mark we should all strive for to reach. It means a lot for me to be able to stand up with others in our company and hold my head high and say I did it!"
Circle of Excellence is a local annual awards program which puts the spot light on the top producing REALTORS® in the Columbus area. To qualify, a member of The Columbus Board of Realtors must achieve certain criteria in gross commission and sales volume. The board then recognizes all qualifying applicants who meet the criteria and honor them at an Awards Luncheon. This year's award ceremony for the Columbus Board of Realtors will be held on March 23, 2012 at 11:30am at the Green Island Country Club.
More information about the Columbus Board of Realtors is available online at http://www.usamls.net/columbus, or contacted by phone at (706) 323-1701.