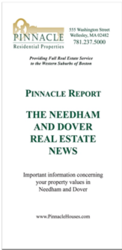 To receive a free copy of the report contact Pinnacle at 781-237-5000 or visit the company's website.
Needham, MA (PRWEB) March 19, 2012
A detailed year-end Needham real estate review and analysis is now available from Pinnacle Residential Properties.
Elaine Bannigan, owner of Pinnacle, said "National and even regional real estate statistics are not necessarily relevant as market conditions vary by town and further, by price range within each town. Each town has its own set of circumstances that make detailed town analysis the only way to analyze local conditions. In order to make informed decisions, buyers and sellers must have this important data."
This year-end Pinnacle Report compares residential MLS property sales in Needham from 2010 to 2011. In Q4 2011 sales volume was relatively unchanged from 2010; 53 sales versus 54 in 2010 and 61 in 2009. In Q4 2008, when the initial crash occurred, there were 52 and pre-crash 2007 there were 52. Needham was comparatively unaffected by the steep drops in sales observed in other towns.
Single Family Market:
The full year-to-year comparison of Needham 2011 single family transaction volume decreased 8% from 2010. A closer look shows that there were 16% fewer sales below $800k. However, sales volume increased in the $800K-$1M range as well as in the $1.5M -$2M price ranges. Overall, Needham's median price increased 4% from 2010 and has increased steadily since 2004. The overall average marketing time (days on market) increased 10%. This is due primarily to the luxury housing segment (over $2M) where new construction projects are listed prior to completion, thus increasing their market time. Actually, Needham homes continued to sell faster than those in neighboring towns: The average house remained on the Needham market just 100 days while average market time for neighboring towns was 133 days in Wellesley, 146 days in Weston and 199 days in Dover.
Local Condominium/Townhouse Market:
The Needham condo market looked very much the same as last year- 39 sales in 2011 versus 40 in 2010 and the median declined slightly ($530,000 vs. 547,500 in 2010). There were 8 condo sales over $700,000 in Needham this year. Condos took less time to sell as the average market time (days on market) decreased 30%. In recent years, the demand for newly built "duplex" style condos continues to be strong. These units appeal to both empty nesters looking to downsize and to buyers as a more affordable alternative to new construction single family homes.
In sum, while there were fewer sales in the lower price ranges (as a result of the expiration of Government incentives in 2010) and luxury price segments, the mid-ranges were strong and it was another solid year for Needham real estate.
To receive a free copy of the report contact Pinnacle at 781-237-5000 or visit the company's website.