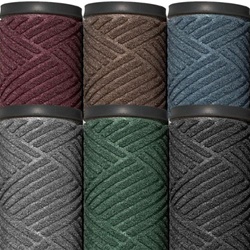 Palos Park, IL (PRWEB) March 18, 2012
The most commonly asked for commercial door mats tend to be scrapers and wipers. Scrapers are any highly textured carpet-like commercial entrance mats that not only dislodge rocks and other debris from shoes but also offer some drying as well. The pattern on the mat can be low profile where the nylon or recycled fibers are simply more concentrated and sit up higher than the base of the mat in places. More effective are the reinforced pattern mats that offer a permanently molded construction that is covered in a carpet-type fiber. What make these more effective are the valleys in between scraper nubs. Once dirt/salt/sand, etc. is scraped off the footwear it falls into the recessed area next to the raised part of the mat pattern. This is a great feature as it keeps particles from being tracked into the rest of the facility.
More and more customers are investing in a more permanent and highly effective aluminum entrance mat system identified as recessed matting. This sort of mat is made of aluminum rails, frames and inserts of various materials. Most typically a recessed mat is set into an existing sunken area at the building doorway. The mat itself has slots for drainage so moisture and dirt fall down into the recess and away from the surface. Recesses ranging from 3/8" to over 4" hold and hide a vast amount of grime before needing to be cleaned out making these very popular in airports, hospitals, and municipal buildings such as court houses and military housing.
If a customer has a need for snow/ice melting mats, MattingExperts.com offers a full line of these as well. Available in runner sizes, stair treads and single doorway sizes; electric heating elements in rubber mats make slippery entryways a thing of the past. The heated mats come with standard electric hookups as well as with temperature and/or moisture sensors for automatic activation.
For the environmentally conscious customer there are recycled tire mats, recycled soda pop bottle mats and coconut shell fiber mats. Mats in this selection range from elegant to industrial looking, backed and un-backed as well as custom sizes for recess placement.
MattingExperts.com remains dedicated to serving any person or business in their search for commercial entrance matting. Call or email anytime for personalized customer care, quotes and samples.