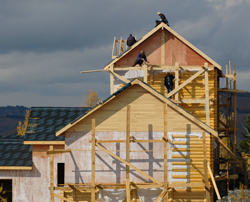 Paul's knowledge of international markets is unsurpassed.
Missoula, MT (PRWEB) March 21, 2012
Paul Owen, President of Vanport International, will present his expert view on exporting wood products to Asia in an exclusive webinar on Thursday, March 29, 2012 at 10am PST. Paul's track record and decades of experience put him at the top of his field, offering attendees from the forest products industry the opportunity to gain real-world insight into how they can take advantage of high-growth markets in the Far East. The webinar is titled Export Opportunities for U.S. Forest Product Manufacturers and is presented by Forest Business Network, Montana World Trade Center and BitterRoot Economic Development District.
In this hour-long event, Paul will provide listeners with a well-rounded introduction to wood exports, including instruction on the Asian countries to focus their efforts; the size, types and grades of lumber in demand; logistics information exporters need to ensure their success; and much more.
Born and raised in Japan, Paul Owen graduated with a B.A. from the Oregon State University College of Business and has built an impressive career with Vanport International over the last two decades that has solidified him as one of the United State's foremost authorities on wood exports. Paul's fluent Japanese language ability and understanding of business and international markets have helped the company expand its global business reach into Japan, China, Russia, Canada and Europe.
Paul's webinar is the first in a series of four webinars focusing on international trade that stretch out over the next year. The primary aim of the webinars is to ready attendees for the 2013 Small Log Conference in Coeur d'Alene, Idaho, set for March of next year. The conference will address international trade as one of its three focus areas—small log utilization and woody biomass jet fuels comprise the other two—and will also host a reverse trade mission from Asia.
"We could not be more pleased to have a speaker of Paul Owen's caliber kick off our webinar series on wood exports," said Craig Rawlings, President & CEO of Forest Business Network. "Serving the forest products industry with authoritative, value-added content and connecting our loyal customers and subscribers to high-profile industry experts like Paul is a large part of our mission as a company, and it's certainly our primary goal as we lead up to the 2013 Small Log Conference and reverse trade mission."
"Montana World Trade Center is excited about our partnership with the Forest Business Network," said Nicole Hagerman-Miller, Managing Director of Montana World Trade Center. "The wood products industry has and will play a major role in Montana's economy. The webinar series and reverse trade mission offers an ideal platform for Montana companies to learn, engage and participate in global opportunities—either as new sales channel or to further develop existing relationships."
The Export Opportunities for U.S. Forest Product Manufacturers webinar is set for Thursday, March 29, 2012 at 10am Pacific Standard Time. Access is limited and demand is high, so interested attendees are encouraged to register early to ensure they get a seat.