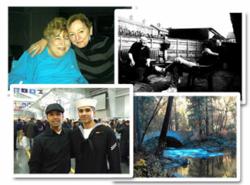 Downey, CA (PRWEB) March 16, 2012
Due to the popularity and interest of the 'My Happy Moment' Photography Competition, The Oncology Institute of Hope and Innovation has announced an extension of the submission deadline. Previously due at the end of February 2012, photos can now be submitted until May 1, 2012.
It is believed that the expression of creativity supports health and provides way to enhance self-discovery, express emotions and transform life experiences into art. Many patients diagnosed with cancer are going through a very difficult period in their lives and this competition aims to encourage patients to capture the moment that touched their lives. The Oncology Institute of Hope and Innovation hopes that taking part in this competition will allow patients to focus on the positive and inspire people around them with their photographs. The competition will be open to all patients of The Institute of Hope and Innovation and will run from January to May 2012.
The photography competition can be viewed on The Oncology Institute's Facebook and Twitter pages, with entries posted regularly.
Facebook: http://www.facebook.com/oncologyinstitute
Twitter: http://twitter.com/OncologySupport
Two first place winners will be chosen and will each win a $100 gift certificate. In addition, six runner-ups will be given $50 gift certificate. Winners will be announced in May.
For more information please E-mail: theoncologyinstitute(at)gmail(dot)com
About the institute:
The Oncology Institute of Hope and Innovation is committed to providing superior, compassionate and state-of-the-art medical care. Offering programs to help patients and families cope with the challenges that are brought on by cancer and strive to optimize their quality of life, comprehensive and realistic treatment goals are tailored to every person's unique needs and decided upon in partnership with the patients and their families. Dedicated to excel in cancer prevention, diagnosis and education through our exceptional team of physicians, nurse practitioners, nurses, medical assistants and office staff, The Oncology Institute of Hope and Innovation has 10 Southern California locations in the cities of Anaheim, Downey, Glendale, La Mirada, Long Beach, Lynwood, Montebello, Torrance, Whittier, and Glendale. For more information please visit http://www.theoncologyinstitute.com.