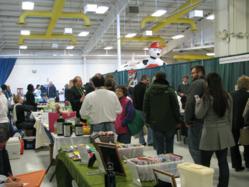 If you are serious about sustainable living you need to be there.
Oshkosh, WI (PRWEB) March 21, 2012
Experience a simpler, more sustainable life. Learn ways to save money and reduce your impact on the Earth. This family-friendly Sustainability Expo will feature local businesses, government agencies, nonprofit organizations, colleges, and cutting-edge products that are all working for a more sustainable Wisconsin.
The Sustainability Expo presented by Healthy Living Events LLC and sponsored by the Oshkosh, Northwestern, Nature's Pathways Magazine, Gourmet Grassfed and Offbeat Press offers a day of solution-based, interactive, family oriented events designed to educate people of all ages about: renewable energy, alternative transportation, sustainable agriculture, green building, buying local, living eco-friendly and reducing your carbon footprint.
Feature Activities:

300 Exhibits & Activities
Recycled Fashion Show - See extraordinary people transforming garbage to glamour and strutting their stuff on stage.
Organic Clothing Fashion Show
Recycled Furniture Contest - Entrants are encouraged to create reused or recycled furniture by turning trash into beautiful treasures. Our criteria for recycled is using elements that were originally manufactured and would be thrown away, if it were not for your creativity to reformat it in a manner or work of art that is different from its intended original use.
Life-Size 3D Cheese Carving
Huge Organic & Local Food Court
Organic Coffee
Demonstration Stage
Performance Stage
Organic & Healthy Cooking Demos
50 Sustainability Workshops
Early Morning Workouts
A whole wing for Eco-Moms
Large Children's Area
Unique Inflatable Bounce Houses
Collection Day
Walk through a "house" created entirely of recycled items made into furniture.
Be sure to visit the Local Food Court and satisfy your appetite for real food with dishes featuring entirely local and organic ingredients prepared by many of the area's finest restaurants. Sustainable, healthy cooking demonstrations featuring local celebrity chefs.
Sunnyview Expo Center
500 County Rd Y
Oshkosh, WI
Saturday, May 12th
9:00am—5:00pm