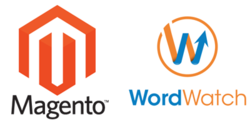 We're excited to be a part of the Magento Connect store, they're one of the biggest eCommerce solutions on the web and this should be a great integration for us.
San Jose, CA (PRWEB) March 19, 2012
WordWatch has partnered with Magento eCommerce solutions to create an app for the Magento Connect store on their community platform. The app will immediately be available to Magento's 110,000+ merchants to automatically handle their AdWords bid management.
"We're very happy to get our app into the Magento Connect store. Magento is one of the largest and most respected storefront companies on the web and we're sure that our WordWatch app will be helpful to their merchants," Todd Wilkinson, CEO of WordWatch, said.
Magento is a customizable webstore hosting solution for web-based businesses. Founded in 2001, they're an open source platform available in countries across the globe. WordWatch is the first PPC management app available on the Magento Connect store.
About WordWatch:
Founded in 2009, WordWatch is an online AdWords bid management application designed for small business advertisers, marketing consultants and freelancers, and small agencies. The application simplifies the daily management of keyword bids and constantly optimizes a customer's AdWords account. WordWatch has offices in San Jose, Amsterdam and Krakow.
Related Links
http://www.wordwatch.com
http://www.magentocommerce.com/magento-connect/