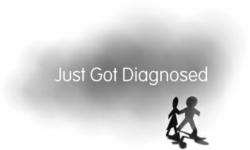 I encourage my clients to allow themselves to be fully human. Let yourself react honestly and fully. And then equip yourself with knowledge, support, and professionals whom you trust. After all, you're in charge.
New York, NY (PRWEB) March 20, 2012
Dr. Gary McClain today released a set of ten tips to help newly-diagnosed patients to become "fighters." A specialist in the emotional impact of chronic and catastrophic illnesses, Gary McClain, PhD, developed JustGotDiagnosed.com to address a serious need he saw going unfulfilled; namely, a way for newly-diagnosed patients to receive help in coping with their emotional reactions to their diagnosis and to become empowered. His program for newly-diagnosed patients, Prepared for the Road Ahead™, is focused on the emotional, lifestyle management, communications, and vision for the future. Dr. McClain also blogs on the patient social networking site, http://www.AllianceHealth.com.
McClain provided his definition of a fighter. "Patients who deal most effectively with a medical diagnosis are what I will call fighters. This doesn't mean fighting in the sense of taking up arms. Being a fighter means being empowered in terms of understanding your diagnosis, the options for treatment, and what lifestyle adjustments need to be made in the near future, and beyond."
"Being empowered is about arming yourself with rational thinking," he continued. "However, fighters have also acknowledged their feelings and continue to honor their own emotions."
McClain's ten tips on becoming a fighter include:
1. Find a safe place to express your feelings. Find someone who can listen without making you feel judged, and who won't get caught up in trying to "fix" you because of their own feelings of helplessness.
2. Confront the fear factor. Fear is only a feeling. Struggling against it can be emotionally exhausting, and keep you frozen in place. Acknowledge your fear, and you take a lot of its power away, even if it comes back to visit once in awhile.
3. Go ahead and ask "why me?" When something bad happens in our lives, it's only human to ask "why me?" Asking the "why" question is an important step toward accepting the diagnosis and preparing for the road ahead.
4. Designate yourself as the primary decision-maker. Fighters may look to others for advice and support, but they have also made it clear that they have placed themselves in charge of their healthcare decisions.
5. Get a second opinion, and even a third. If at all possible – and in most cases it is possible – take the time to get a second opinion of your diagnosis and recommended treatment. And if the first two physicians don't agree, consider getting a third opinion. The wrong treatment can be as devastating as the condition.
6. Research your condition. Information-gathering – bibliotherapy – is an antidote to fear. Go online and research your condition. Maintain a notebook with what you learn, and any questions that arise, and bring along to your next appointment with your physician.
7. Think of your physician as a professional and not as your best friend. Physicians want their patients to do their own research and to ask them questions. Healthcare is a shared responsibility, a partnership. Respect your physician's opinions and recommendations, but always ask why.
8. Decide where you need support and then ask for it. Decide where you want help and where you want to go it alone, then sit down and make a list of what you have to accomplish and where you may need help. And don't neglect your spirit!
9. Do the numbers. Any medical condition has financial implications. Make a budget based on any current and future expenses that you are aware of. See where you are at risk and talk to the experts.
10. Create a vision for the future. Your future may not be what you had planned, but that doesn't mean you don't have a future, but you may need to make some revisions. Revise yours based on a vision that includes not only what is realistic but also what may not be so realistic but still may be possible.
"I encourage my clients to allow themselves to be fully human," McClain emphasized. "Let yourself react honestly and fully. And then equip yourself with knowledge, support, and professionals whom you trust. After all, you're in charge."
About Dr. Gary McClain and http://www.JustGotDiagnosed.com
Dr. Gary McClain is a licensed counselor, educator, life coach and author who specializes in working with individuals who have been diagnosed with chronic and catastrophic medical conditions, focusing on issues that include coping emotionally, gathering information, making lifestyle and treatment decisions, managing relationships, and communicating with healthcare professionals. As "Dr. Gary," he blogs on patient social networking boards on http://www.AllianceHealth.com. Founded and developed by Dr. McClain, JustGotDiagnosed.com offers information, guidance and inspiration for newly diagnosed patients, their caregivers, and healthcare professionals. Visit http://www.JustGotDiagnosed.com.