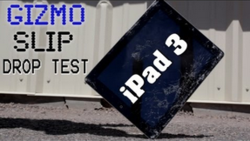 Apple's latest generation of iPad was able to withstand a drop test better than its predecessor. GizmoSlip, a new tech blog that features durability tests of popular devices, destroys a device if it fails and gives it way if it survives.
Houston, TX (PRWEB) March 17, 2012
Apple's new iPad 3 trumped its predecessor in a series of dropped tests. GizmoSlip, a newly launched YouTube tech blog has performed drop tests on numerous devices including both generations of Apple's flagship tablet. While the iPad 2 failed to survive even a three foot drop on its corner, the new iPad 3 survived the same drop but at four feet as well as a drop on its back, also from 4 feet. Despite the iPad 3 failing the last drop on its face, it still proved more durable than the iPad 2.
As consumers weigh the advantages of purchasing an iPad 3 over over keeping an older generation iPad or purchasing it at a discounted price, durability may prove to be a deciding factor for many. If you want to see the iPad drop tests, you can check them out here:
iPad 3 Drop Test: http://youtu.be/oR0T0AijRJw
iPad 2 Drop Test: http://youtu.be/xfaaopjSJyA
GizmoSlip's YouTube Channel: http://youtube.com/GizmoSlip
GizmoSlip gives away the devices that survive and destroys the devices that fail their drop tests. They are currently giving away an iPad 3 and a PSVita. To sign up to win either device, all you have to do is subscribe to their YouTube channel and newsletter (http://www.gizmoslip.com/newsletter/?p=subscribe). If you would like to contact someone at GizmoSlip, you can reach them at gizmoslip(at)gmail(dot)com.