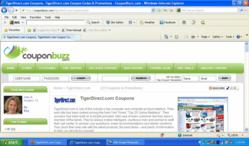 We enjoy partnering with TigerDirect.com on our website to offer consumers truly incredible deals and savings.
Houston, TX (PRWEB) March 17, 2012
Today CouponBuzz.com announced a coupon for $350 Off the Samsung Series 9 laptop, now available for just $999.97. This latest TigerDirect.com coupon was unveiled in the recently launched section of CouponBuzz.com dedicated to special offers and coupon codes from TigerDirect.com. The Samsung Series 9 laptop is just one of the many premium brand-name computers available from the popular internet reseller renowned for low prices, high quality and an impressive catalog of computer parts.
"We enjoy partnering with TigerDirect.com on our website to offer consumers truly incredible deals and savings," said Justin Bowen, one of the founders of CouponBuzz.com. "Offers like the most recent TigerDirect.com coupon for $350 off the Samsung 9 Series laptop do a great job at increasing traffic to CouponBuzz, and increasing sales at TigerDirect. It's a beautiful friendship."
The Samsung Series 9 laptop is an extremely mobile PC for business travelers, students, and anyone who doesn't feel like lugging extra weight. The Series 9 packs incredible computing power into duralumin casing that is just .64" thin and 2.88 lbs, making it the lightest notebook in its class. The Samsung Series 9 includes SuperBright technology that makes its screen up to 2x brighter than a standard display. The notebook comes standard with an Intel Core i5 processor, and also features TurboBoost technology which allows it to complete commands and tasks with speed that has to be experience to be believed.
To sum it up, the Samsung Series 9 is a top of the line notebook that combines portability with connectivity. The 128GB solid state hard drive will boot in an incredible 15 seconds, and the 6-cell battery will keep it humming for up to 7 hours unplugged. Also extremely important in today's gadget-heavy environment, the Samsung Series 9 offers a plethora of ports; a USB 2.0, a micro-HDMI, and a USB 3.0 port that charges a phone or MP3 player.
And as budgets shrink and the economy stays down, one of the best things the Samsung Series 9 has going for it is that consumers can now use the latest TigerDirect.com coupon to save $350 off standard retail pricing. The coupon link is featured in CouponBuzz.com's new TigerDirect.com section, located at http://couponbuzz.com/tigerdirect.com-coupons.html.