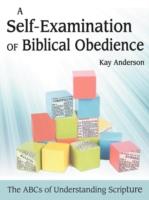 Edenton, NC (PRWEB) March 19, 2012
When author Kay Anderson discovered just how many people struggled to memorize Scripture, during a church exercise, she immediately began writing her Bible study. To help people become more obedient to God's word, comes her new Bible study, "A Self-Examination of Biblical Obedience: The ABCs of Understanding Scripture" (published by CrossBooks).
"A Self-Examination of Biblical Obedience" is a motivational workbook organized into topics from A to Z. Anderson provides readers with step-by-step exercises that will aid in the evaluation of their levels of obedience to God. She provides study notes outlining and simplifying what commands to obey and why to obey them, as well as detailed instructions and journal sheets to assist in developing an individual plan toward becoming more obedient to His Word.
"My book will appeal to readers because it offers a manageable way for people to immerse themselves in God's messages concerning obedience, especially those who feel overwhelmed by the Bible's size and complexity," explains Anderson.
Anderson's Bible study guide is simple enough for anyone to utilize to improve their walk with Christ. The verses are simplified into short commands, with organized lists that assist readers in finding scriptural texts and built-in Scripture references cited to create additional study time.
About the Author
Kay Anderson brings to her writing more than three decades of teaching and advocating for people with special needs, giving her experience in presenting written thoughts so that readers may easily gain understanding. She holds a master's degree in education and National Board Certification in special education. She lives in Edenton, North Carolina, with her husband.
CrossBooks, a division of LifeWay Christian Resources of the Southern Baptist Convention, is a Christian publishing imprint committed to bringing more Christian voices into the publishing industry. Established authors, first-time authors, and authors anywhere in between can meet their goals and fulfill their vision for their books by publishing with CrossBooks. CrossBooks' innovative style of publishing blends the best of traditional and self-publishing. While our authors contribute monetarily to cover the cost of publishing, we maintain a strict moral and quality standard that every manuscript must meet for us to publish. For more information on publishing your Christian book with CrossBooks, log on to crossbooks.com or call 1-866-879-0502.