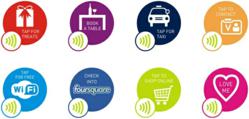 NFC Smart Stickers and Smart Posters will certainly lead the way in proximity marketing developments over the coming months
Egham, Surrey (PRWEB UK) 20 March 2012
Smart Poster Ltd has this week revealed a brand new range of Smart Stickers featuring NFC technology - doubling their NFC product offering following the launch of the Enlighten Smart Poster last year. The revolutionary Smart Sticker range was rolled out at the Retail Business Technology Expo at London's Earls Court in collaboration with sign manufacturer Signbox - demonstrating new proximity marketing opportunities to the retail and leisure sector.
Smart Stickers are an all-new NFC proximity marketing application that is presenting business with a fresh and intuitive way to engage with smartphone users. Manufactured from durable polyester film, Smart Stickers can be attached to shop windows or doors for an eye-catching 'call to action' to engage consumers.
The sticker's NFC tag can be packed with information, which is retrievable by any NFC-enabled smartphone user with a fast, close proximity 'tap' of their handset. Now, businesses- big and small- including restaurants, estate agents and taxi companies are able to send tailored, relevant information to a smartphone handset in seconds. Smart Sticker can be custom printed with any image or graphic to match a business desired engagement experience.
It's not only during business hours that Smart Stickers can engage consumers-a sticker's NFC tag can be read by a smartphone through 8mm glass or acrylic-ultimately allowing business to connect with existing or potential customers 24-hours a day. Smartphone users can 'tap' their mobile phone to retrieve details of a property at estate agents, download a restaurant's menu, call a taxi or claim an incentive voucher relating to a window advertisement even when the business is closed.
Mark Bartlett, Managing Director of Smart Poster Ltd comments: "NFC Smart Stickers and Smart Posters will certainly lead the way in proximity marketing developments over the coming months. Not least because of the endless communication opportunities the technology presents to businesses, but due to the very nature of the technology, consumers must 'opt-in' to engagement, unlike Bluetooth and location-based services-giving consumers more control and combating any privacy concerns."
Smart Poster Ltd also launched an external IP 67 rated version of their Enlighten Smart Poste r at the Retail Business Technology Expo, which features an edge-to-edge glass face with no visible frame or fixing and a unique locking device for displays that demand security.
About Smart Poster Ltd
Smart Poster Ltd supply a range of proximity marketing product including Enlighten-a revolutionary smart poster that delivers enhanced customer engagement through new NFC (near field communication) proximity marketing, which is changing the way people interact with the brands and marketing messages that surround them.