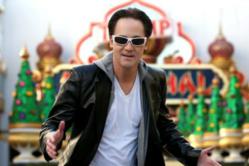 Las Vegas, NV (PRWEB) March 19, 2012
Jimmie Lee, The Jersey Outlaw, country rock artist, has hit gold with his new hit music video single, Kid Vegas. This hot song is the title track of Jimmies latest CD, Kid Vegas, and has garnered major radio airplay and attention over the last few months. The song is a top heatseeker and is playing now in major cities on radio and television.
KID VEGAS combines the elements of Las Vegas with a Kid Rock feel, to give a unique high energy sound, that makes this new single a sure winner. So, settle in with the top down and crack this tune loud, while you roll down the strip to your favorite casino. Cause Jimmie's saying, "he don't care what the game is, he don't care what the stakes is, hangin out with the players, he's Kid Vegas. Be sure to check the new tune at http://www.jimmieleesongs.com and YouTube at the following link; http://youtu.be/1lsP0Pvd-eg
The Jersey Outlaw has already released several CDs worthy of catchy energetic tunes and is no newcomer to the music business. Jimmie's hits include, Lets Go, Kickin' Ass, Country Rocker, Forever 29, Gimme A Holler, Cross Country 4 Wheel Drive, Gone, and most recently his two new hit songs for poker, I'm All In and Hit The River Running. The Outlaw has opened for such legends as George Thorogood, The Kentucky Headhunters, Kenny Chesney, as well as performed large venues as a headliner.
Jimmie has got alot of stuff in the fire for 2012, that includes big venues and shows to several cities for the spring and summer tour, as well as several poker appearances to promote his poker songs. His next stop is Thurs, March 29th in New York City for a charity poker event, where the Outlaw will make a celebrity appearance and play in the main event, with Jimmie's poker music being played. Check this event out at http://www.poker4life.org. And Jimmies hitting Las Vegas from April 25-29, with big venues and poker events, so check this out at http://www.jimmieleesongs.com. The Bad Boy of Country Rock will be sure to have the WOW factor incorporated into all his shows and events, that include the Bandito Girls.
And Kid Vegas, Jimmie Lee is continuing his quest into superstar status as a consummate performer and entertainer, so be sure to catch him at his many events and venues this year.
Jimmie Lee is coming to your city soon.