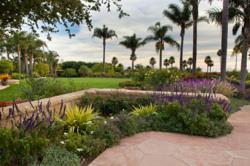 Down to Earth Landscapes, Inc of Santa Barbara, Ca launches a new website
Santa Barbara, CA (PRWEB) March 19, 2012
Down to Earth Landscapes, Inc has deep roots in Santa Barbara County. The Koehler family can trace their Santa Barbara landscaping roots and heritage directly back to the earliest settlers of the Buell family. Their grandmother, Maybelle Buell-Nielson, was born of the legendary A.W. Buell, who was a rancher and an entrepreneur in the early California pioneering era of the late 19th century, and who, with his brother, founded the city Buellton, Ca. And their grandfather, Wylie Nielson, was one half of the fabled Santa Barbara Electrical team Nielson-Smith.
This Santa Barbara landscaping company is owned and operated by three brothers, Chris, Bruce and Mark Koehler. The company was originally founded by Chris Koehler in 1970.Bruce Koehlr is currently the President. By the way, Bruce and Mark are identical twins.
"From my earliest days, I have always been up a tree or have had my hands in the soil, and it shows. People often ask me when I'm going to hang up my uniform for shorts and a pair of sandals, but as long as I can landscape that will never happen because I don't consider it work. said Bruce Koehler, President. "I like to be out in the field, always learning more so I can bring you my expertise, blending it with the soul of an artist and the touch of a craftsman."
About Down to Earth Landscapes, Inc
Down to Earth Landscapes specializes in large residential estate landscaping projects and commercial landscape maintenance programs. Recently, Down to Earth Landscapes has developed a passion for vineyard design and viticulture. They have designed, planted and maintained several vineyards for clients in the Santa Barbara and Santa Ynez regions. If you want wine, they can grow it, make it and bottle it for you.
For more information visit http://www.downtoearthlandscapesinc.com