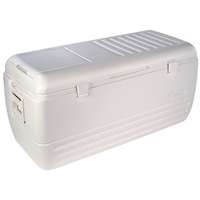 A refrigerator can only keep food cold for four hours after the power goes out
Destin, FL (PRWEB) March 18, 2012
When a severe storm hits and the power goes out, the chances that the power will return within a few hours is slim. Tornados and hurricanes can lead to days or weeks without power. A refrigerator can only keep food cold for four hours after the power goes out, and a fully stocked freezer lasts a maximum of two days. A new kind of cooler made by popular manufacturer "Igloo" is built for the purpose of preserving refrigerated groceries for up to seven days with the use of block or dry ice. Disaster Relief Supply has begun marketing these long-life coolers as an important asset in emergency preparedness.
The Igloo Quick & Cool five and seven day coolers are made especially to hold a large amount of food for a long duration. The hatch and lid are Ultratherm-insulated to keep contents cool. Most of where refrigerators and freezers lose their "cool" is when the owner opens the door to retrieve an item. This can be the difference between four and three hours of refrigeration. But the Quick & Cool series offers a hatch that allows for easy access to food without lifting the lid.
When the power goes out there is a list of things to attend to. Disaster Relief Supply is hoping to shorten that list by adding products like the Igloo Quick & Cool Coolers to their already vast and varied inventory of emergency preparedness and disaster recovery items.