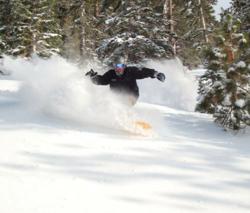 For only $49 down, you can lock in the best rates for your 12/13 Vail Resorts Season Pass...
Keystone, CO (PRWEB) March 17, 2012
As the saying goes, the early bird gets the worm, and in this case the worm involves special pricing and exclusive early booking benefits. Put $49 down by April 15 to secure a 2012/2013 season pass and be guaranteed the lowest price. With the purchase of the Epic Local Pass, pass holders will also receive 6 Buddy Passes and get free, unlimited Vail and Beaver Creek access in April 2013. The remainder of the pass amount will be due in mid-September of 2012.
Purchasing an Epic Local Pass is a smart move if you plans on skiing or riding 5 days or more next season, as it will pay for itself. The Epic Local Pass grants unlimited access to Keystone, Arapahoe Basin, and Breckenridge and 10 days at Vail or Beaver Creek, with a few blackout dates during select holiday time periods.
Season Passes are available for purchase online and products include:

Epic Local Pass - $509: Unlimited, unrestricted skiing or riding at Breckenridge, Keystone and Arapahoe Basin with limited holiday restrictions at Heavenly, Northstar and Kirkwood. Includes 10 days at Vail or Beaver Creek with holiday restrictions.
Summit Value Pass - $419: Unlimited and unrestricted lift access to Keystone and Arapahoe Basin, with holiday restrictions at Breckenridge.
Epic Pass- $659:Unlimited, unrestricted skiing at Vail, Beaver Creek, Breckenridge, Keystone, Heavenly, Northstar, Kirkwood and Arapahoe Basin.
Epic 7-day - $509: Seven unrestricted days at Vail, Beaver Creek, Breckenridge, Keystone, Heavenly, Northstar and Arapahoe Basin.
These prices are guaranteed through April 15, 2012. Vail Resorts offers season pass insurance for just $20 for adults to protect in the event of unexpected circumstances including sickness, injuries and job loss.
Don't miss out on the most epic skiing and riding next season, purchase a pass today to lock in the best rates. SummitCove.com Vacation Lodging in Keystone is now accepting Vacation Lodging reservations for the 2012-2013 Ski Season. Stay in River Run Village at Keystone and walk to the slopes. Book your accommodations today to lock-in this year's rates and best property selections.