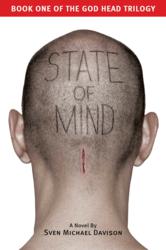 State of Mind is the ultimate in identity theft. A world where you are trapped in your own body while it is forced to commit crime.
Los Angeles, CA (PRWEB) March 20, 2012
Waynesville Daily states the Federal Trade Commission estimates "as many as nine million Americans have their identities stolen each year." Writer Sven Michael Davison has had first hand experience fighting identity theft. Most recently with a gas station pump credit card swipe machine. "Apparently there was a device that sent my credit card and zip code to a computer near by and the thief was able to create fake cards. Within two weeks there were thousands of dollars racked up in gas charges all over Los Angeles."
Davison first experienced identity theft in 2006 and it took months to clear his name. The event was a major influence in creating "State of Mind," a story where people place chips in their heads for medical, behavior, knowledge, and communication enhancements. The downside is hackers– known as God Heads –digitally breach these chips, place the individual into a coma, and use their bodies to commit crimes. "State of Mind is the ultimate in identity theft. A world where you are trapped in your own body while it is forced to commit crime."
"State of Mind" is a near-future thriller, but the novel definitely comments on today's society and where we might be headed over the next few decades. It is the first novel in Davison's "God Head Trilogy." Look for the second book, "State of Union" in the fall of 2012.
"State of Mind" is a finalist and winner of two Dan Poynter's Global eBook Awards.
"A thoughtfully composed piece of cyberpunk that will please readers of both science fiction and noir." – Kirkus Reviews
"Davison's Los Angeles is pulpy- vibrant, an unforgettable wasteland. State of Mind is the world of the near future, the horrible synthesis of human desire and the technology to make it a reality. – ForeWord Reviews
"An intelligent, thought provoking, cinematic post-cyberpunk thriller and a great read."

"This book deserves to go directly to the 'Top Ten Best Sellers List.'" – Deb Shunamon, Reader Views.
"There are some crazy twists and turns in this novel and the end? One word… WOW. It totally blew me away. There are plenty of shocking, hanging on the edge of my seats moments." – Alice Bola, girls just reading
"State of Mind" is a tense, thoughtful and well-paced sci-fi tale drawn from Davison's life, imagination and his experiences with technological innovation. – Pod Cast Interview by Bryan Reesman bryanreesman.com
Sven Davison is a full time husband, father, and manager in a creative design agency in Los Angeles. He has written screenplays, trailers and special feature content for DVD and Blu-ray. This is his second novel.
For more information visit http://www.stateofmindbook.com
STATE OF MIND
By Sven Michael Davison
Published by Bedouin Press
$25.95 • (389 pages) • 6 x 9
Hardcover with dust jacket • ISBN: 978-0-9666149-2-3
eBook $2.99
Publication date: 2011
http://www.stateofmindbook.com
To request a review copy or to schedule an interview, contact: Jeannine Patton
info(at)bedouinpress(dot)com
(310) 748-8731