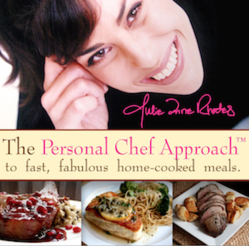 Hungry like the wolf: Julie Anne Rhodes goes from rock 'n' roll wife to food fame - Los Angeles Times
Los Angeles, CA (PRWEB) March 20, 2012
Her unique take on food has spun out seemingly bizarre but delicious culinary creations from her Food Network victory for "Best Poultry Burger in America," to her chocolate sundae dessert waffles, and rose scented pink grapefruit cupcakes. The fan base of Julie Anne Rhodes' blog, Jewels from The Roving Stove, is exploding as she celebrates its third anniversary on May 1st. "I love to paint with flavor, so my goal is to inspire people to think beyond shackled taste buds, and expand culinary horizons to make cooking fun again!"
The former top fashion model, actress, and food activist, accustomed to being whisked through VIP lounges in couture gowns, ultimately landed apron-clad in the kitchen ten years ago when she opened her personal chef service, The Roving Stove, to resounding success. "15 years of living on three boring lettuce leaves a day, and enjoying food vicariously (apart from the odd nibble) in top restaurants around the globe left me filled with cravings, and a voracious desire to get creative in the kitchen."
With readers in 114 countries to date, a legion of loyal followers including the LA Times and the UK's Daily Mail taking note, a limited edition bottle of grappa named after her in Italy and France, and a book deal in the works - it seems to be "gelling" with others too. Julie Anne's glamorous background coupled with candid stories of her life and celebrity friends may add to the intrigue, but it is her down to earth Midwestern roots and recipes that make her so easily relatable to most.
"Every entry is like reading a new chapter in a favorite book. The best part is, there is no 'last chapter'. Second best thing is that there is food." –Lane Buckman
So why do people respond so well to Jewels? Some like the fly-on-the-wall perspective into an alluring world, others mentorship from the multi award-winning personal chef, and some just come for great recipes. Julie Anne weaves it all together in such a friendly, comforting style that one reader describes it as "like sitting at my kitchen table, drinking coffee, and listening to a good friend."
About Julie Anne Rhodes:
As a top model and then-wife of Duran Duran's Nick Rhodes, Julie Anne spent the eighties and nineties globetrotting, being captured by the world's most acclaimed photographers, and marching on 10 Downing Street with Parents for Safe Foods. Ultimately, she landed back in Los Angeles as the founder of the multi award-winning personal chef service, The Roving Stove. She won the Golden Whisk Award for "Best Newbie Personal Chef", Personal Chefs Network's Pacesetter Award, and "Best Poultry Burger in America" on Food Network's Ultimate Recipe Showdown (Julie Anne's recipe has garnered more five star reviews on Food Network's website than any other recipe from the series).
Her blog, Jewels from The Roving Stove made both the top ten Food and Entertainment Blogs of 2010 in the Bloggers Choice Awards, plus Blogcatalog's Top Ten Food Blogs 2011. Most recently, she has appeared on several Community Cooking in Torrance programs, The Cooking Channel's Food(ography), and The Lost Chronicles of Food. Now Julie Anne is launching her own lifestyle brand along with her Personal Chef Approach™. Find more information about Julie Anne Rhodes here.
# # #