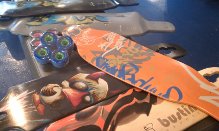 "Skateboarding has always been our first true love but there is alot to be said for having longboarding as a mistress", the buyers at Pure have to say. "Lots of interesting characters and watching backyard builders grow into legit companies".
Annapolis, MD (PRWEB) March 19, 2012
Crazy is the word to describe the longboard world right now.
Brands of wheels, trucks, decks and accessories has grown exponentially.
Seemingly overnight.
Always keeping their eyes out for trends and the next new thing, the buyers at Pure have seen this quick growth in the past with another industry and have prepared for it by committing a large section of their retail space and bringing in loads of longboard gear by established brands.
Pure has been selling longboards since the early 1990's and though it isn't a new thing, according to the guys in the shop with all the hype and new designs it sure feels like it.
Pure Board Shop, pre-2004 known as Evolve, has also been selling snowboards since 1993.
("What no ski's in stock?" "Can you turn or stop those things?")
Toward the mid-90's snowboarding was taking off and brands could do no wrong. Anything that did not sell in the US was sure to be bought up by the Asian markets.
Of course this did not last and many companies that made it through those wild days are still with us.
"Growing pains" will most certainly be felt by some of these newer longboard companies, especially trying to meet the building demand of longboarders.
Pure is on some of their communities longboard "fan pages" and keeps in touch daily with the market.
Most of these riders are constantly sharing information, ideas and personal feelings on the products they like. This influence is seen and felt by Pure Board Shop and the local crew is stoked to see Pure's inventory showing it.
With so much instant information available to the riders through websites, blogs and other forms of social media Pure is experiencing what many other shops in the country are seeing.
"Longboarders are much more specific in the parts and brands they want to ride and be a part of", spouts Pure key holder and local skateboarder Chris Aguirre. "If we don't stock it they will wait weeks for us to special order for them."
"It is much harder to suggest say a different wheel, even with the same size, color and hardness, than it is to a "street skater"
Another specific must have item is the harsh grip tape the downhill crew likes, their shoes take a beating and most of the locals like a grippy, mid supportive sneaker.
Nike SB seems to be the favorite, with Adidas Skate and Vans running close behind.
The longboards brands Pure stocks, but not limited to, are:
Sector 9, Never Summer, Bustin, Original, Landyachtz, Comet, Rayne, Abec 11, Metro Motion, Cult, Paris, Randall and Caliber.
About Pure Board Shop:
Open in 1993 as Evolve, Pure opened its doors on Forest Drive in 2005.
Always differentiating themselves from mall stores, the buyers have and are always searching for products and brands that are exclusive to the shop.
Nike SB, Nike Snowboarding, Adidas Skateboarding, HUF, Diamond, The Hundreds, and Pure are just some of the brands in the rotating mix.
As always, with a daily inventory and listening to their customers, the guys at Pure have well established themselves as the shop to hit up for all your longboarding desires.