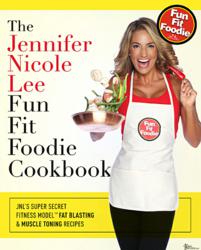 JNL shares "its my goal and passion to help others achieve their fitness, wellness and lifestyle goals in a fun fit way-especially families. Im proud to be a mom and now help other moms too create healthy meals in their homes with my cookbook."
Miami, FL (PRWEB) March 19, 2012
Known maybe more for her bikini photos, celebrity sightings, and clothing line, now
Jennifer Nicole Lee adds cook book author to her robust and stellar resume. Jennifer Nicole Lee and her management team are celebrating her love for healthy cooking with the much anticipated release date of her 3rd hard cover book entitled "The Fun Fit Foodie".
JNL explains her spin on healthy cooking. She comes from a solid fitness background having been a fitness and figure competitor for years with winning countless awards, titles and crowns. She states "I got bored with the so called healthy weight-loss program where we would all choke down dry chicken breasts and "blah" broccoli, and this motivated me to cook up high protein fat blasting meals that helped to tone sexy lean muscles while keeping your taste buds happy." This international wellness expert and mom now reveals her fat blasting and muscle fueling recipes that were created with a balance in mind.
JNL went on to state "my recipes work with your body, not against it" as she worked with a team of nutritionists, and an actual tasting and testing kitchen which created each and every recipe in this book. JNL's Fun, Fit Foodie recipes bring on the flavor with hearty, delicious breakfasts, lunches, dinners, and snacks.
Some highlights in the book are the philosophies of how eating more, not less, will help to shed those stubborn pounds. JNL also states that "fun fit foodies" know how to get control of the metabolism, to then control weight, by turning it into "burn" mode.
A foodie at heart who states she hates diets, JNL even urges celebrating once and a while with a glass of red wine and dark chocolate, as they are both chock full of antioxidants and good for your heart health.
In closing, JNL shares "its my goal and passion to help others achieve their fitness, wellness and lifestyle goals in a fun fit way-especially families. Im proud to be a mom and now help other moms too create balance in their lives and homes as well. My cookbook is a must have for all modern day moms who need quick and easy recipes the entire family will love."
For more info, please visit http://www.TheFunFitFoodie.tv and http://www.JenniferNicoleLee.com