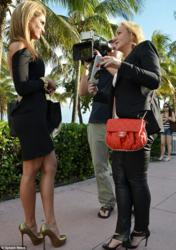 Miami Beach, FL (PRWEB) March 19, 2012
Jennifer Nicole Lee has been described as such a multi-dimensional woman, that she embodies the energy of ten women in one hot super fit sexy body. She is an acclaimed author, super fitness model, mega mogul, and mom. She is an internationally recognized brand who started her journey by simply wanting to be the best mom possible to her children. Her passion for being healthy then turned into 50 magazine covers, lucrative beauty and wellness deals, mega contracts, and exclusive partnerships with some of the worlds heaviest hitters in the entertainment industry. Being a multi-winning beauty and fitness competitor with countless titles and awards, JNL was moved to expand her message to the mainstream area, hitting especially moms. With JNL not truly seeing just how beautiful she is, she describes herself as "an everyday woman who just wants to help others increase the quality of their lifestyle." With such a huge force field in the international entertainment field, it was only suitable that the #1 Entertainment and Celebrity TV show in Europe, RED TV, sought JNL out to spend a day with her in her private multi-million dollar estate. Red TV describes this bestselling author as a "hot beach babe" and is invited inside her $4.5 million dollar Miami beach home, including the first time ever look at her massive walk in closet filled with premiere designer bags, shoes, dresses, and yes of course bikinis.
Comfortable in her own celebrity tight toned and tanned skin, JNL shares some much insight into how she became extremely successful, stating " my three tips are work hard, work hard, and then work harder!" JNL pulls no punches when speaking the truth, sharing "Im not the youngest, hottest nor the fittest, but I am the hardest working woman that I know. I work 7 days a week, 14 hour days, and I never clock out. Even when Im 'relaxing' my mind is heavy thinking about how I can be better and stronger and more successful. Its just the way I am. Others see a sexy woman, and I am just to me, a geek who loves to always be on."
On this prime time exclusive, the world gets to see JNL workout in one of her favorite places to be, Miami beach. on the episode, JNL screams "I'm wearing too much fabric" (one of her trademark sayings) and then tears off her shirt, revealing a super slim yet strong body. Her catch phrase of "strong is the new skinny" is relevant in her own body, as her physique is strong, sexy and feminine.
After their beach workout, JNL takes the crew to her world famous Fitness Model Factory for an photo shoot for her next up and coming JNL Clothing line available at http://www.JNLclothing.com . The Factory is a kaleidoscope of bold, bright, tropical colors with an expansive wardrobe and glamorous hair and makeup parlor.
When asked what the future holds for her, Jennifer humbly responds "Im grateful to be in a position to motivate millions on a global level. I am humbled to help inspire so many to be better, through living a happy, healthy balanced life. I already feel as if Ive been given to many blessings, and I look forward to continuing on my journey called life."
When reached for comment on what is indeed next for Mrs. Lee. JNL's management team did confirm the release of her third hard cover book, a healthy cookbook due out this April 2012.
To view the entire show, please visit http://www.youtube.com/all_comments?v=p8IUi-1pzfQ