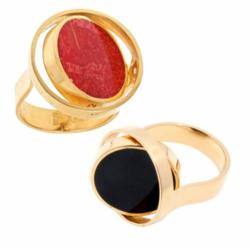 The Ultimate in Recessionista Chic
Boca Raton, FL (PRWEB) March 20, 2012
The jewelry design house Pure Dead Brilliant has created a line of Recessionista Chic accessories with the fashionable-but-economy-conscious-consumer in mind. What is Recessionista Chic? It is a way to describe a piece of jewelry, or an article of clothing which can be adapted to have multiple uses.
Many women who buy jewelry on a budget make the mistake of thinking small. A modest purchase is not always the best investment, and when talking about getting good value for money, one should be sure to think big! Versatility is the key word, when it comes to Recessionista Chic; the more use you get out of your jewelry, the better the investment. That's why Pure Dead Brilliant designs their collections to be multifaceted - adaptable, for any occasion.
PDB's Maia Three Gold Vitrine Rings is perfect for getting a triple dose of vitamin C! You can don the three citrine teardrop rings clustered on a single digit, or wear them separately and spread the wealth to your other fingers. The warm citrine gemstone has been said to have the power to improve moods and bring a sunny outlook to the day. The 22k gold vermeil settings are easy to care for and won't burn a hole in your pocketbook!
PDB's Revolver Ring is as stunning as it is versatile. Available in a gold vermeil or silver setting, this piece comes with a twist! The resin disk in the center flips; black on one side, coral on the other. So one can wear the blushing coral stone for daytime and switch to black to match your evening wear. A fantastic buy for the fashionista on a budget. It is as if you have two rings for the price of one! That's big thinking.
Now available at GalleryAtlantic.com.