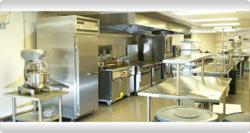 Pro Auction to hold 3 day sale of brand new catering equipment
London, UK (PRWEB) March 19, 2012
CESA, The Catering Equipment Suppliers Association recently reported that The Olympics has created increased investment in new catering equipment, to meet anticipated demand," says Keith Warren, director of CESA. "As the Games get nearer, the problem will be availability: if caterers wait too long they are likely to find that many popular models are in short supply – not just major equipment like prime cooking, refrigeration and warewashing equipment, but also small items such as tableware and utensils. (http://www.publicityworks.biz/2012/03/cesa-warns-of-olympic-catering-equipment-supply-issues/)
Pro Auction are therefore delighted to assist caterers with a three day auction of catering equipment, all of which is brand new and is to be sold over a three day sale. The auction will consist of prime cooking, refrigeration and warewashing equipment along with over 300 lots of commercial catering equipment.
The sale is set to take place online on the 27th 28th & 29th March 2012, with a viewing at the vendors warehouse facility on 26th March 2012 between 10am and 3pm.
Given the demand for good quality equipment and the forthcoming Olympics and Jubilee celebrations, caterers, hoteliers and the pub trade can capitalize on the significantly reduced prices of the equipment and ensure timely supply in anticipation of the events.
Equipment from major manufacturer brands such as Lincat, True, Rubbermaid and Affinox all feature in the sale and cooking ranges from American Range are likely to attract interest from cost conscious bidders looking for a quality brand at an affordable price.
Pro Auction hold regular sales of catering equipment both new and used on instructions from the sellers, we are not dealers and do not trade equipment explained MD Mark Flynn, we merely assist our clients with the sale of surplus assets as a result of strategic changes in the vendors business or due to closure of operations.
The sale features on http://www.bidspotter.co.uk and can be viewed at the following links:
27th March http://www.bidspotter.co.uk/forms/TimedAuctionList.php?eventid=1103
28th March http://www.bidspotter.co.uk/forms/TimedAuctionList.php?eventid=1104
29th March http://www.bidspotter.co.uk/forms/InventoryListView.php?eventid=1105
With catering auctions accounting for a sale per month on the auctioneers platform the auctioneers advise potential bidders to inspect lots prior to bidding, come in mind with a budget to the auction sale and bid confidently that the sale is genuine and goods immediately available.
A catalogue for the commercial auction and catering sales can be downloaded free of charge from the auctioneers website at http://www.proauction.ltd.uk/auctions.asp or via the online bidding platform.