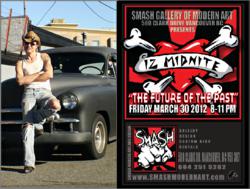 "SMASH is a place where artist and their public can meet on common ground, without the trappings of government funding or the smoke and mirrors environments of traditional commercial galleries." expounds gallery owner 12 Midnite.
Vancouver, BC, Canada (PRWEB) March 20, 2012
It is no secret that the founders of alternative online dating site TattCafe.com are in love with tattoos and the culture that embraces flesh marking. So it is a natural extension of their interest in ink to embrace those who live and survive within this worldwide community.
TattCafe.com and the gallery's 'Prince of Lowbrow' 12 Midnite are teaming up to promote the re-birth of the SMASH Gallery of Modern Art. Co-founder of Tattcafe, Helen Siwak, had her first big city gallery show at the SMASH over twenty years ago. It was a shock to the small town girl to show in gallery on the decidedly wrong side of the tracks' where the patrons were edgy, flamboyant and flaunted their counterculture. Regrettably the gallery closed its doors at the end of that exhibition.
In the twenty some years that have past since the SMASH's reign, 12 Midnite has been the owner operator of several seminal Vancouver galleries beginning with the SMASH Gallery of Modern Art, The Big red dot, new tiny, lucky red and the Lowbrow Garage.
Fast forward to 2012 and 12 Midnite has an updated vision for SMASH to explore. Having held a fascination with the mythical dichotomy that exists between so-called high and low art has driven him to constantly blend techniques and approaches. An admiration for psychological advertising techniques and the rebellion against them has led him to the street and alleyways as an illegal street artist promoting a political bent toward pro-human and anti-establishment symbols of personal and societal resistance.
12 Midnite's imagery has appeared in many mediums: Neon, paintings, and custom cars have appeared in film productions, music videos, TV shows and commercials. Clients include Warner Brothers Records and The Grand Ole Opry. His art has adorned clothing, lighters, hats, stickers, even billboards, not to mention how many tattoos out there incorporate his images. 12 Midnite's work can be found in commercial and private collections all over Canada, the US and Britain.
TattCafe.com is proud to announce the return of the SMASH Gallery of Modern Art and 12 Midnite's premier exhibition "The Future of the past". A fitting title for the first show in a gallery destined to influence a new generation of Vancouver art stars. Located at 580 Clark Drive in Vancouver, BC, the new SMASH is 1500 square feet of pure art bliss offering gallery space, design, custom neon and rentals. Opening night is Friday, March 30th from 8:00pm to 11:00pm. Artists who wish future consideration for hanging should contact 12 Midnite and Jennifer Abrams through the galleries website at http://www.SMASHmodernart.com.