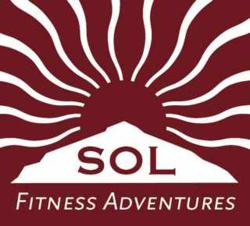 What a thrill for me...aligning myself with AllthingsHealing.com is a natural fit.
Orem, Utah (PRWEB) March 21, 2012
Utah fitness coach and adventure guide Melanie Webb, founder of Sol Fitness Adventures, has accepted a 6-month position as Assistant Editor of Exercise & Fitness for AllThingsHealing.com, an online community of healing the mind, body, spirit, and planet. A nationally certified fitness professional of over 10 years, Webb will seek out material from leading edge professionals in the fitness industry as well as contribute her own original content. The newest member of the Exercise & Fitness page, Webb joins the ranks of Assistant Editor Bess Coble and Guest Featured Editor Kathy Smith, a leader in the health and wellness industry.
Attracting over 350,000 page views per month, AllThingsHealing.com has established a reputation as a reputable source of 75+ editors from all over the world who represent 39 categories of holistic disciplines. Webb's goal is to add to the success of the 1.5 year-old website by increasing traffic to the Exercise & Fitness page and providing sound exercise and fitness content.
A former Wildlife Biologist for the Utah Division of Wildlife Resources, the multi-talented Webb honed her editing and writing skills researching endangered species. She went on to represent a private environmental consulting firm at the U.S. General Services Administration in Washington, D.C. as a technical writer and National Environmental Policy Act (NEPA) Specialist before returning to her true passion, fitness and adventure. Says Webb of her career path, "What a thrill to see all of my skills and talents combine in my career right now. The knowledge of how exercise and fitness and a connection to the planet enhance life is paramount to my work with Sol Fitness Adventures. Aligning myself with AllThingsHealing.com is a natural fit."
About Melanie Webb and Sol Fitness Adventures:
Webb is an ATHLETA Featured Athlete for 2012. A Certified Personal Trainer with the American Council on Exercise, Webb's expertise has been featured on Good Morning America and FOX Local News in Washington, D.C. and in Appalachian Mountain Club, Cosmo Girl, C A R S O N, Mammoth Sierra Magazine, 805 Living, Outside Magazine, Real Simple, Weight Watchers, and DC Style magazines. Educated at Brigham Young University, Webb has guided multi-day fitness adventures throughout the state of Utah, in the Eastern Sierra Mountains of California, West Texas, Whistler, Canada, and Machu Picchu, Peru. Webb's Sol Fitness Adventures is a member of the Adventure Travel Trade Association.