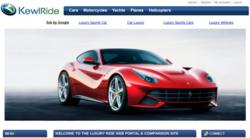 (PRWEB) March 20, 2012
KewlRide.com announces the launch of its robust luxury vehicle search portal and dynamic comparison tool that provides a one-stop web destination of the most exciting luxury cars, yachts, private jets, and motor bikes currently found on the market. For fans of exotic sports cars, superbikes, business jets, motor yachts and even helicopters, there is one destination that has it all. KewRide is a comprehensive web site that doesn't just provide a list of the world's most impressive personal modes of transportation by land, air or sea, it goes into depth, offering full specifications, tantalizing photos and even videos of the vehicles in action.
In the category dedicated to cars, KewRide has more than just the expected Ferrari models. Rolls Royce, Bugatti, Aston Martin, Koenigsegg and many more manufacturers are represented in quick search categories such as Exotic Supercars, Super Sports Cars, Grand Touring Cars and even Green Sports Cars. Using the site's dynamic compare tool feature, visitors can see how various cars stack up against each other. This allows for a true comparison between green sports cars and traditional exotic sports cars or any other combination that a visitor might find fascinating.
When it comes to motor bikes, KewRide delivers the goods on several different types, including super bikes, sports bikes and even cruiser motor bikes. When searching the web to find the latest motorcycles or to learn what a Ducati has to offer then KewlRide provides a robust one-stop interactive portal of the coolest two and three wheel rides on the market; with compelling content that includes the specifications, news, a complete gallery of motor bike images and videos of motorcycles in action.
The KewRide category for planes offers variety as well, from single and twin engine turboprop planes to Heavy Jets and Very Light Jets. KewlRide provides quick search capability to find the ideal plane by category, or by Manufacturer such as Cessna or Gulfstream or by size or even price. In addition, KewlRide a compare tool to research and identify just the right plane.
In the helicopter area, KewlRide provides users with a Light and Midsize categories from which to browse, compare and find the perfect helicopter. Visitors can sort by price and discover a number of truly impressive flying machines they might not have found any other way.
So whether one wants to learn all about today's distinctive Lamborghini super sports cars or locate exactly the right luxury motor yacht, KewlRide has all of the information readily at hand. This is the web's one-stop destination for the best rides in the world across many categories, offering news from each industry and featured articles well worth reading.
Those wanting to get a taste of what this dynamic web site has to offer should visit KewlRide.com today to find new photos, fresh videos and the latest on the best rides. Drop by today and discover why so many people are booking this kewl destination for amazing vehicles.
Contact information:
KewlRide.com PR
pr(at)kewlride(dot)com
KewlRide.com