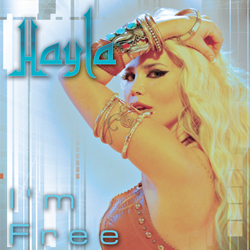 The clubs have always been home to me and I am nothing but thankful for all the love we are feeling from the DJs and fans.
West Hollywood, CA (PRWEB) March 19, 2012
Hayla is breaking barriers few new artists are able to penetrate. The international singer-songwriter and percussionist with lush vocals is enjoying Billboard charting success with her new single "I'm Free." Hayla divulges that "I'm Free" was written after she shockingly discovered her boyfriend of 7 years in bed with another man. Born into a musical family, Hayla was raised by two lesbian moms and is the daughter of a gay hairstylist. Experiencing the wrath of prejudice during her youth, Hayla is all about love and compassion today. She believes that everyone should be free to express themselves with honesty.
"I wrote 'I'm Free' because I surprisingly found my boyfriend of 7 years cheating on me with another man," explains Hayla. "But guess what? I didn't freak out at all. Everything was cool because a person needs to be true to himself first. I was just so amazed that I didn't figure it out sooner! [Laughs] We were both set free to find our true selves."
Hayla moves into the #23* spot this week on the Billboard Dance chart with "I'm Free." The single is gaining at radio and is currently in rotation on BPM on SiriusXM, MusicChoice, FusionRadio.fm, iheartradio, and many top dance and mixshow stations.
"I feel so blessed to be supported by all these immensely talented guys who remixed 'I'm Free.' Every mix stands on its own merit and I am so proud of this package," states Hayla. "The clubs have always been a home to me and I am nothing but thankful for all the love we are feeling. I'm sending a big hug and smooch to each and every DJ and radio program director out there for spinning 'I'm Free!'"
Combining sultry lyrics and hypnotic melodies, Hayla has teamed up with some of the leading names in dance music to propel the "I'm Free" single into the ears and hearts of millions internationally. "The remix package contains stellar productions from Ralphi Rosario, Mixin Marc & Tony Svejda, DJ Bam Bam, DJ Riddler, Mike Rizzo, Super Stylers, Dave Matthias, Finbarr Massi & Dan De Leon, DJ Drew G, and the KlubJumpers. "I'm Free" is originally co-produced by Hayla, Zarotek and Gemini.
A high-fashion concept music video for "I'm Free" is currently in production and is expected to be released at the end of March. Hayla recently performed at Colony and at My House in Los Angeles to packed venues receiving rave reviews. Additional performance dates are forthcoming. The singer-songwriter is also busy readying her 2nd full-length CD, which is slated for release this June.
To purchase "I'm Free" on iTunes please visit: http://itunes.apple.com/us/album/im-free-remixes/id500088120.
Follow Hayla:
http://www.facebook.com/haylaofficial
https://twitter.com/haylaofficial
ABOUT HAYLA
Drawing musical inspiration from a multi-cultural background that includes ancestry from Egypt, Greece, Yemen and Spain, multi-talented singer and live percussionist Hayla brings a dynamic dash of exotica to the global dance scene as she boldly declares: "I'm Free!" Hayla secured her first label deal in Israel at 17 and quickly scored a #1 chart hit. After moving to the U.S. in 2005, she lived first in Miami and then settled in Los Angeles, where she currently works with a unique array of musicians and producers. Over the past few years, Hayla has toured the U.S. with the Arabic group, the Yuval Ron Ensemble; was lead singer for the Jewish Symphony; sang at comedian Wanda Sykes' wedding; and recorded vocals for several projects by Academy Award winning composer James Horner ("Titanic," "Avatar"). Her single "Paulina," sung in both Spanish and English is also currently charting in clubs and on dance radio.
For Media Inquiries and Materials:
Media Giants
Jim Strzalkowski
T.: (310) 652-2283
Email: jim(at)mediagiantsusa(dot)com