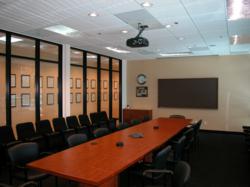 Co-Work, Co-Learn and Co-Mingle for as little as $20 a day.
(PRWEB) March 21, 2012
When Bill was asked what has Coworking Plus meant to him this is what he said: "There I was, in my home office, trying to generate business opportunities for business brokerage, financing originations or whatever business development opportunity I could think of. Then it hit me, how can I sit here all by myself and develop the relationships and networking necessary to foster business development opportunities…simple, you can't!! I obtained office space from Coworking Plus and soon found myself surrounded by other self-starting, business development people/professionals just like myself. We all had varying specific business agendas, but the co-mingling and sharing of ideas was invaluable. For months I had been developing a branded licensing idea and the synergies, and idea sharing of others in the Coworking environment, all aided in nurturing this idea into fruition. Not only did I secure my Licensing Agreement with Jelly Belly Candy Company, Business Team introduced an investor from whom I secured a $1-Million dollar investment partner. That single office has now turned into four offices, for my support staff, and is emerging into a national frozen beverages and dessert products company with anticipated annual sales in excess of $8-Million in 2012."
If ever there was a testimony to what Coworking stands for it is this. This space is now open for all entrepreneurs, home workers, mobile workers and companies of all sizes who need professional office space to rent from 1 day to 12 months in a collaborative and energized environment. At the open day there will be a mixture of training sessions, collaboration events and an opportunity to see this unique business hub in motion. Brian Mac Mahon from Your Office Agent will also be happy to help with your needs for office space either before, after or at the event, where he will be all day. For all information in the meantime he can be contacted at 310 7459580 or contact(at)yourofficeagent(dot)com.