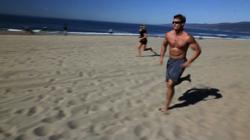 Every session gets you one step closer to being a more athletic, better conditioned and mentally stronger person.
Santa Monica, CA (PRWEB) March 19, 2012
Everyone has found themselves at that mental and physical plateau that comes from being stuck in the rut of the same old routine at the gym at some point. Loss of motivation and lack of energy usually quickly follow. But now, thanks to the experts at LEAF Lifestyle, Angelenos have a new group fitness class to help bust out of that rut and back into top physical condition, all while enjoying the beautiful SoCal outdoors.
The Saturday Morning Beach Breakers group led by fitness, strength and conditioning specialist, Tanner Martty of LEAF Lifestyle, is a challenging workout for men and women to test their physical conditioning and mental toughness while getting a needed reprieve from the inside of a gym. The main goal of this class is to get participants back to moving athletically in an explosive manner and fight through fatigue to build strong muscles and minds. Attendees can expect to partake in a rigorous routine of sprints, plyometrics, animal movement patters, bodyweight exercises, and some other surprises they've probably never seen. Every session gets participants one step closer to being a more athletic, better conditioned and mentally stronger person.
The workout is suitable for people of all fitness levels who are committed to challenging themselves to take their workouts to the next level. All are welcome upon prior registration and completion of a brief evaluation through LEAF Lifestyle.
WHAT: LEAF Lifestyle's Saturday Morning Beach Breakers
WHERE: Santa Monica Beach where Ocean Park Blvd. meets the beach
WHEN: 9am, Saturday mornings
COST: $40 for an introductory class; $300 for an 8-session package
CONTACT: For more information on the Saturday Morning Beach Breakers, or to register for upcoming sessions, please contact Tanner Martty at LEAF Lifestyle via tanner.martty(at)gmail(dot)com.
About Tanner Martty: Fascinated with physical training from an early age, Tanner's affinity with fitness combined with his competitive nature paved the way for his future educational, athletic, and professional success. His energy, thirst for knowledge, and unrelenting commitment to evolution resulted in a college basketball scholarship, as well as competing in Olympic weightlifting and bodybuilding competitions. Tanner's journey in fitness has taken him down a unique path with a variety of experience and exposure to world-renowned coaches of every kind, which guide his coaching and training today. As a student of both theory and practical application, he has developed a dynamic methodology for his clientele that results in rapid improvements.
About LEAF Lifestyle: LEAF Lifestyle is a personal training company, based in Santa Monica, California that focuses on all aspects of health and wellness - not just workouts. They strive to provide comprehensive services that incorporate workout programs, nutrition plans, lifestyle coaching, manual therapy and even cooking classes. LEAF is comprised of a group of certified experts that work together for the greater goal of transforming lives. For more information on LEAF Lifestyle, please visit their site at http://www.leaflifestyle.com, or you can find them on Facebook, Twitter, and YouTube.
For all media inquiries, complimentary press attendance to the Saturday Morning Beach Breakers, or to schedule an interview with Tanner Martty please contact: Jenn Deese | Melrose PR | jenn(at)melrosepr(dot)com | (310) 776-9285