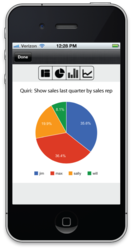 The way people interact with applications and computers will be forever changed
Burlington, MA (PRWEB) March 19, 2012
EasyAsk, the leader in natural language technology and solutions, introduced Quiri, a voice-enabled natural language mobile platform, to drastically change the way workers can interact with and request information and answers from their organizations' business applications. Quiri is an engaging, natural language mobile application that makes finding the right information within business data from anywhere, more intuitive than existing mobile interfaces.
For a video demonstration of Quiri for sales, click here or go to http://www.youtube.com/watch?v=NFop1jU7a_g.
Initial results from a survey sponsored by EasyAsk and executed by Market Tools, an independent research company, confirms that workers are losing productivity when searching for the information they need to do their jobs. When respondents were asked how much time they could save if they could speak to their computing devices (mobile or otherwise) and ask for information or answers, as one would speak to a colleague – instead of navigating applications or building reports, almost 40 percent anticipated saving 31 minutes to more than 2 hours of time each day. In the US workforce with more than 73 million computer-using workers, the survey suggests that organizations could save more than $800 million in wage costs every day.* Additionally, roughly half of respondents believe a voice-enabled natural language platform would make it easier to perform their job (49 percent), add value to their company's revenue and/or profitability (47 percent) and improve customer experiences and/or satisfaction (55 percent).
"With the increasing consumerization of business intelligence (for example, mobile BI), growing volume and variety of available data, and soaring speed of business, it can be challenging to place appropriate guardrails on analytic implementations to ensure that the right data is presented to the right people and processes at the right time," according to recent Gartner research by Doug Laney and co-authors.**
EasyAsk Quiri offers users a new, intuitive corporate mobile application experience – combining voice, search, mobile optimized display and interactions, and on-demand access to engage users – making them more productive and putting the right information in their hands anywhere. Quiri provides Siri-like built-in speech recognition and natural language processing, allowing users to conveniently speak their business questions and get answers. Users tap a microphone button, speak a request and Quiri retrieves the answer from existing corporate data.
Quiri key features:

Voice-enabled interface – speak your questions to Quiri in English and get instantaneous answers from business applications and data.
Natural language for business – EasyAsk natural language engine reads existing data and meta-data and immediately builds a relevant set of business terms, which automatically guides the system how to interpret and answer relevant business questions.
Engaging and optimized mobile interface – the voice interface, natural language processing, mobile optimized user interface and interaction style make it easy for business users to find and use corporate information.
Rapid mobile actions – share information inside EasyAsk, email results from your mobile device, and setup alerts to speed actions and collaborate with other mobile users.
Secure – built-in authentication and data encryption ensure proper security and data access to the back-end business applications and data.
Other notable research findings:

Over half of respondents are spending 31 minutes to more than 2 hours daily in systems or applications looking for answers or reports they need to perform their jobs.
Nearly 50 percent find it difficult – some to all of the time – to find the right information to perform their jobs.
Forty-two percent sometimes have business questions that cannot be answered by their existing applications.
Of those that were familiar with Apple's Siri, 54 percent agreed that a Siri-like tool on a mobile device, tablet, laptop and/or desktop that connected to business systems and applications would make it easier to do their jobs.
"The way people interact with applications and computers will be forever changed," says Craig Bassin, CEO of EasyAsk. "It should be more fluid and natural. At EasyAsk, we teach machines to understand humans, not the reverse. Our powerful natural language platform empowers any individual to simply ask for what they want from an application or system. Quiri will help all types of business users better understand the information within their business data, enabling users to interact with business information exactly as they interact with their colleagues."
EasyAsk initiated its Business User research in February 2012. The independent research company Market Tools executed survey, collecting 420 qualified responses across a wide range of industries in the US. The focus of the research was to look at how workers access information currently to perform their jobs, and how that could be improved if the computing interfaces varied. Full research results will be available shortly at http://www.easyask.com.
About EasyAsk
EasyAsk is radically changing the speed and ease of how people find information through the company's ground-breaking natural language search software. EasyAsk software products go far beyond traditional search, allowing users to simply ask questions in plain English and receive highly tuned results on demand. The EasyAsk eCommerce Edition uses this unique technology to deliver an industry leading website search, navigation and merchandising solution that boosts online revenue through increased conversion rates, better customer experience and agile merchandising. EasyAsk Quiri and Business Edition revolutionize enterprise decision-making, moving beyond traditional business intelligence solutions with easy, low-cost deployment and a unique natural language interface that extends access to information anywhere in the organization.
Based in Burlington, Massachusetts, EasyAsk has long been a leader in natural language information analysis and delivery software. Customers such as Coldwater Creek, Lands End, Lillian Vernon, Aramark, TruValue, Siemens, Hartford Hospital, Ceridian, JoAnn Fabrics and Harbor Freight Tools rely on the EasyAsk software products to run their business and e-commerce operations daily. For more information, please visit http://www.easyask.com.
According to the Bureau of Labor Statistics, as of March 2012, there are 132.166 million US workers with a mean wage of $23.29 and hour. A 2003 Bureau of Labor study suggests that at least 55.5 percent of all US workers use a computer at work. This would equate to at least 73,352,130 people using computers at work in the US in February 2012. The EasyAsk Business User survey found that 11 percent of respondents will save 1 to 10 min, 13 percent will save 11 to 30 min, 18 percent will save 31 minutes to one hour, 14 percent will save one to two hours, and 7 percent will save more than two hours every day. Total estimated savings is $800,656,592.48 per day.
** Gartner, "Predicts 2012: Business Intelligence Still Subject to Nontechnical Challenges," Published: 13 December 2011