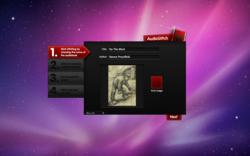 (PRWEB) March 21, 2012
AudioBook Stitch is an audiobook binder software that allows users to combine their MP3 files or audiobook chapters into a single audio file.
With AudioBook Stitch, users no longer have to manage separate audiobook files, ripping separate chapters to their own location and then adding them later. They can now compose a single file from the individual chapters, making it easier to manage.
AudioBook Stitch also reduces the "chipmunk" effect that can so often happen when listening to audiobooks at speed. This feature allows users to create audiobook files that play back at up to 4x speed, making the listening process faster without sacrificing the quality of the audio.
To celebrate the release of this innovative product, the app is currently priced at $7.99. Users who purchase the app now will get a free upgrade to the next release and access to some killer new features in development.
AudioBook Stitch is currently available in the Mac App Store and can be downloaded directly at the following URL: http://itunes.apple.com/us/app/audiobook-stitch/id494638355?mt=12.
Users can also visit the Mac App Store on their Mac and search for AudioBook Stitch to gain access and download the application.
AudioBook Stitch is the first release from Stitch Software, a division of Preneur Marketing set up to provide software tools that help entrepreneurs by enhancing productivity.