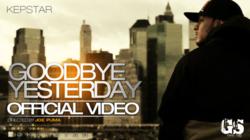 Miami, FL (PRWEB) March 19, 2012
Hip hop artist Kepstar recently released the official video for his single "Goodbye Yesterday," which is featured on his mixtape "Shades of Gray" hosted by Clinton Sparks. Coast 2 Coast Video Distribution presents the project, which was directed and edited by Joe Puma.
"Goodbye Yesterday" has also recently been featured on "Coast 2 Coast Vol. 191," hosted by Yelawolf. The track has been getting a lot of notice from fans through blog and hip hop websites. Yo! Raps Magazine said, "Goodbye Yesterday has a lot of replay value, sporting great lyrics and solid production." The video is just another step in this young artist's evolution as he continues to turn more and more heads towards his music. With his new hash tag created promo/mentality "#RedCupSippin" beginning to go viral with his fans new and old, it will be exciting to see how high and how fast Kepstar begins to rise in the music industry.
Kepstar was born Christopher Gonzalez in 1989. After moving around a lot when he was a child, his family found a home in Queens, NY when he was 6. Being a very energetic and sometimes troublesome youth, Kepstar found solace in writing rhymes around the age of 12. He was able to catch the notice of many local producers, promoters and other local artists, allowing him to build a solid core fan base throughout Queens. Realizing he had a gift for writing, he began grinding, performing at local clubs and releasing music online for the next several years. At the young age of 16, Kepstar decided to drop out of high school so that he could work and make money in order to pursue his dream of making music professionally. Now only 21 years old, Kepstar is beginning to turn a lot of heads with the release of his mixtape "Shades Of Gray" which not only has a few notable features such as Joe Budden, Termanology, and producer J. Cardim, but is also hosted by Clinton Sparks. Working hard and perfecting his talents since the age of 12, Kepstar sets himself apart in this flooded music industry with not only his impeccable delivery and lyricism but, most notably, the dedication and emotion he emits on every track.
"Goodbye Yesterday" is available to view at http://www.youtube.com/watch?v=3ww3sJn8vq4