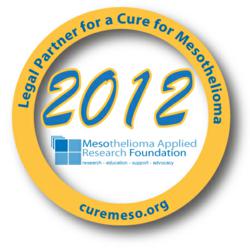 We are grateful to our Legal Partners and all of our donors for their steadfast commitment to end the tragedy caused by this cancer
Washington, DC (PRWEB) March 19, 2012
The Mesothelioma Applied Research Foundation (Meso Foundation) is pleased to announce that in 2012, six firms joined its Legal Partners for a Cure Program, making a vital commitment to mesothelioma patients and their families.
The Law Offices of Peter G. Angelos and the Levy Phillips & Konigsberg, LLP firm joined the program at its highest Diamond level.
The firms of Early Lucarelli Sweeny Strauss; Kazan, McClain, Lyons, Greenwood & Harley; Motley Rice LLC; and the Simmons Firm joined the program's Gold level.
The Meso Foundation uses contributions from its Legal Partners and donors, to directly impact its mission of funding the most promising mesothelioma research in order to expand effective treatment options for patients, prolong survival, and find a cure, while, at the same time, attending to the patients' and their families' immediate and long-term needs following a mesothelioma diagnosis. The Meso Foundation does not receive government funding and its work is funded entirely through the generosity of its supporters.
"We are grateful to our Legal Partners and all of our donors for their steadfast commitment to end the tragedy caused by this cancer," said Meso Foundation's executive director, Kathy Wiedemer.
The Meso Foundation does not provide legal referrals and is not affiliated with any law firm other than as a recipient of charitable donations. More information about the Legal Partners for a Cure program is available at http://www.curemeso.org/legalpartners.
Mesothelioma is a malignant tumor of the lining of the lung, abdomen, or heart known to be caused by exposure to asbestos. Medical experts consider it one of the most aggressive and deadly of all cancers. Approximately 3,000 Americans are diagnosed with mesothelioma every year.
The Meso Foundation is the leading organization dedicated to eradicating mesothelioma as a life-ending cancer by funding peer-reviewed mesothelioma research, providing patient support services and education, and advocating Congress for increased federal funding for research. Mesothelioma funding, per death, has historically been extremely low, and even as recently as 2010, the NCI reported that mesothelioma receives as little as 7 times less funding per death than other cancers. The Meso Foundation was founded in 2000 to address this imbalance and since then has independently funded over $7.6 million in peer-reviewed mesothelioma research. More information is available at http://www.curemeso.org.
###