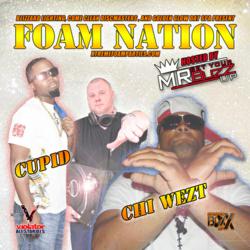 Miami, FL (PRWEB) March 20, 2012
Cupid and Chi Wezt recently released the mixtape "Foam Nation." Coast 2 Coast Mixtapes presents the project, which is hosted by Mr. Get Your Buzz Up, in association with FustionMixtapes.com.. It is now available for free download. "Foam Nation" features Cupid and Chi Wezt on tracks with guest artist appearances from J Dash, J Reel, Calico, Lil Vince, Jimmy P, Benny Blanco, Bad Nuze, and more.
National recording artist Bryson Bernard, a.k.a. Cupid, discovered his passion for music in church where his father served as a pastor, singing in choir and learning piano at the age of 15. The singer first enjoyed radio airplay in 2001 with his high-energy first single, "Do Ya Thang," which appeared on his self-pressed debut album. His second self-released album, 2005's The King of Down South R&B gained airplay throughout the region, from Florida to Texas. Cupid's career rocketed in January 2007, with the release of his third album, Time For a Change. Mere days before putting the CD out, he got the call inviting him to sign with Atlantic Records. His breakthrough first single from that album, "Cupid Shuffle," sparked a nationwide sensation. Since "Cupid Shuffle," Cupid has continued to keep the dance floors rocking with charting songs like "Say Yes," "Happy Dance," "The Love Slide," and "Do My Ladies Run This Party," which was featured on BET's 106 & Park.
Chi Wezt was born in Chicago, IL, in 1987. The Westside of Chicago, nicknamed "Holy City," was where Brandon aka Chi Wezt was raised and thoroughly bred by the streets, and where his uncle, China Joe ("American Gangster" BET / "Gangland" History Channel), taught him the game at a young age. At age 15, guidance and guardianship for ChiWezt was established, and a new Wezt era was born. Chi Wezt was able to make a name for himself through local studios and shows, where he emerged from one of the craziest areas in Chicago. Chi Wezt ended up with Come Clean Entertainment and since then the sky has been the limit. Having headlined in New York's Time Square with over 300,000 viewers on live Ustream, opened for national artists such as Bobby V, Twista, O.J. Da Juiceman, Bo Deal from Bricksquad, and BoneCrusher, Wezt is no stranger to success. Chi Wezt's wordplay and stage presence continues to take him to the next level and his overall goal in this game is to be the best as he continues to strive towards the top.
Shay Newman, a.k.a DJ Fusion, is an award-winning Violator All-Star DJ whose talent on the turntables and truly remarkable mixing skills have earned him the reputation as one of the top club-packing DJs in the world. Fusion's mixes have been heard internationally on Sirius XM Radio along with several terrestrial stations nationally. His experience, talent, and artist relationships provide him with access to the newest and most music (both local and international) of any DJ coast to coast.
"Foam Nation" is available for free streaming and download at http://coast2coastmixtapes.com/mixtapes/mixtapedetail.aspx/cupid-and-chi-wezt-foam-nation-ft-newcupid-mrgetyourbuzzup