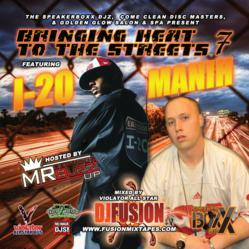 Miami, FL (PRWEB) March 21, 2012
DJ Fusion recently released the mixtape "Bringing The Heat To The Streets 7," which features I-20 from DTP and MaNIH. Coast 2 Coast Mixtapes presents the project, which is hosted by Mr. Get Your Buzz Up, in association with FusionMixtapes.com. It is now available for free download. "BTHTHS 7" features I-20 and Manih on tracks with guest artist appearances from Tha A-Boyz, Bad Nuze, Kain, Motion, Tre Money, and more.
As the clean-up man for Ludacris' Disturbing Tha Peace clique, I-20 is the one who gets the call when a song needs some extra punch. Such was the case on Ludacris' smash single "Move B***h," on which I-20 appeared with Ludacris and Mystikal. I-20's muscular voice and hard-hitting rhymes made the cut one of the biggest singles of 2002 and gave the gifted rhymer a platform to showcase his verbal dexterity. Born and raised in Decatur, GA, I-20 fell in love with EPMD's "Strictly Business album at age 12 and viewed the seminal hip hop pair as the ultimate rap duo. Around this time, one of his cousins wrote a rap, which led to I-20 scripting his own lyrics. After that, I-20 was hooked. Fans of Ludacris' fun-filled music should be prepared for a more serious approach from I-20, who focuses his street-based raps on emotional tales of love, life, and death. "I'm more in your face," I-20 says of his style compared to Ludacris'. "I represent the "disturbed" in Disturbing Tha Peace. I represent a different side, the bleak reality of what's going right and what's going wrong in America. Regardless, I'm going to give it to you honest."
MaNIH is an American hip hop artist, producer, lyricist and self-described lyrical artist from southern Wisconsin. MaNIH endeavors to take the art of music to the next level. His unique way of bending words and phrases is fueled by an internal anguish, generated by a painful past. MaNIH had many damaging ways of releasing his anger in his early teens. It wasn't until a poetry unit in high school that he found his talent of self-expression. With each line his story came out through his pen, taking years of oppression, turning it into rhyme.
"Bringing The Heat To The Streets 7" is available for free streaming and download at http://coast2coastmixtapes.com/mixtapes/mixtapedetail.aspx/i-20-of-dtp-mr-get-your-buzz-up-and-manih-bhtts-7-i20dtp-manih86-kingfusion