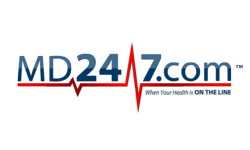 MD247.COM is now available at wholesale prices for large businesses.
St. Petersburg Florida (PRWEB) March 19, 2012
MD247.COM, the Tampa Florida based provider of a unique 24/7 program, announced on Sunday that it would now be offering wholesale purchase opportunities of their program for large employers in Boston; New York; Detroit and Los Angeles. The healthcare program provides all members 24/7 access to a nationwide network of licensed medical professionals for a consultation fee far below that of Urgent Care Clinics.
The MD247.COM services provide members with the opportunity to conveniently remain either in the comfort of their own home, or otherwised engaged at work, while relaying their medical symptoms to a waiting staff of licensed medical professionals. 24/7 telemedicine is a fiscally sound, and culturally popular alternative which can either supplement or replace traditional bureaucracy burdened health insurance coverage. The MD247.COM program is proving to be particularly attractive to families, who may have members that fall outside of typical health insurance policy coverage due to either age or a pre-exsting condition.
MD247.COM invites all businesses interested in the MD247.COM program to visit their website, and submit a request for information using the "Get Started Today" page.
MD247.COM is a twenty-four hour a day affordable concierge telemedicine company based out of Seminole Florida. All members have unlimited telephone access to a nationwide medical support team with just a phone call. MD247.COM has a virtual platoon of Registered Nurses and board certified physicians available to members for ALL non-emergency situations. You can learn more about MD247.COM by visiting their website.