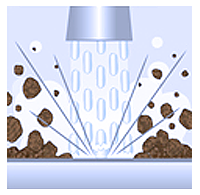 Dry ice blast cleaning is an environmentally friendly cleaning method and approved by the USDA, FDA, and EPA.
Chicago, IL (PRWEB) March 19, 2012
Dry Ice Blast Cleaning is a safe cleaning method that uses dry ice (CO2) which is blasted against the material to be cleaned, causing the dirt and grime to be releases due to the expansion of CO2 gas when it meets a warmer surface. Dry ice blast cleaning is an environmentally friendly cleaning method and approved by the USDA, FDA, and EPA. Another benefit to using dry ice blast cleaning is that there is no secondary waste like there is with sand blasting, power washing, or solvents.
Flood Specialists uses dry ice blast cleaning to remove mold, mildew and dirt from wood decks, patios, garages and basements or the exteriors of log cabins but can also be used to clean things like fountains (think Buckingham Fountain), limestone fireplace surrounds, marble statues, grave stones, engines, and much more. It is so versatile that it can clean an aged book cover or strip paint from walls. It is a cleaning marvel.
Dry ice blasting machine rentals are available at Flood Specialists, Inc. When renting a machine from us, make sure you use plenty of caution when working in an enclosed space. Dry Ice blast cleaning requires plenty of ventilation because the dry ice turns to carbon dioxide when it meets the surface being cleaned. Dry ice is very cold, so insulated gloves are required as well as protective eye and ear gear. Flood Specialists encourages the use of their certified technicians but as the method gains popularity, do-it-yourselfers will find it desirable to rent a machine.
Dry ice blast cleaning can also be performed on delicate items and family heirlooms that have gotten dirty over the years. The certified restoration professionals at Flood Specialists can clean those heirlooms and restore them to a like-new condition. Soap and water may not always do the trick every time and can actually damage delicate heirlooms. Dry ice blasting is a safe and effective way to remove years of grime from small delicate items. It is one of the most advanced ways to clean heirlooms but not recommended to be performed by inexperienced users.
About Flood Specialists, Inc.:
Flood Specialists, Inc. is one of the largest providers of Specialty Cleaning & Restoration services in Chicago, IL and surrounding communities. They are IICRC certified and maintain an A+ rating with the Better Business Bureau. Visit http://water-damage-specialists.com for more information on water damage, or follow us on Twitter at @h20damageRepair.