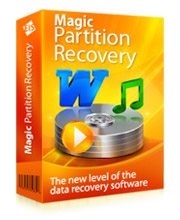 recover files and folders, repair broken partitions and rebuild corrupted and missing file systems in full auto mode
(PRWEB) March 20, 2012
East Imperial Soft announces the release of Magic Partition Recovery, a new data recovery tool to recover lost information, rebuild corrupted partitions and recreate damaged and overwritten file system records. The new player on the crowded data recovery market offers smarter recovery, and allows rebuilding missing disk system structures from the scratch based on the actual data discovered on the disk. Magic Partition Recovery supports all types of storage media formatted with all versions of FAT and NTFS.
About Magic Partition Recovery 1.0
Magic Partition Recovery is an all-in-one, fully automated disk and data recovery solution. Its functions range from simple recovery of deleted files and folders to complete reconstruction of disk system structures such as the MBR, partition table, and file system. The new tool combines comprehensive functionality with intuitive user interface, allowing anyone to use the product.
The new partition recovery tool recovers deleted files and folders from healthy, formatted and damaged disks quickly and easily. Its Explorer-like user interface makes the recovery as simple as browsing the disk with Windows Explorer. In Quick Recovery mode, the tool lists recoverable files in just moments, while Comprehensive Analysis performs content-aware scan of the entire disk in order to locate all recoverable information down to the last bit.
In addition to file and folder recovery, Magic Partition Recovery can repair damaged disk system structures and fix corrupted file systems, effectively putting inaccessible disks back into service. The tool can recover formatted and repartitioned disks, including those half-filled with new information.
Content-Aware Disk Analysis
Magic Partition Recovery offers an innovative way to repair disk system structures. By performing content-aware analysis of the entire disk surface, Magic Partition Recovery can rebuild missing, overwritten and badly damaged file system from the scratch. Content-aware analysis scans the entire surface of the hard disk in order to detect files of known types such as documents, archives, pictures, databases, music and multimedia files in most common formats. Based on information found on the hard disk, Magic Partition Recovery can create a replacement file system listing all files and folders located on the damaged disk. In a sense, in Comprehensive Analysis mode Magic Partition Recovery does not "repair" the disk, but performs a complete re-build of affected system structures. Content-aware file system recovery is unique to Magic Partition Recovery, putting it ahead of the competition.
Compatibility
Magic Partition Recovery handles healthy, formatted, corrupted and inaccessible disks, and supports all brands of magnetic and solid-state storage media. The tool can recover hard drives, memory cards, USB flash drives and removable disks. Magic Partition Recovery supports all versions of FAT and NTFS, and runs in 32-bit and 64-bit versions of Windows XP, Vista, Windows 7, 2003 and 2008 Server.
Pricing and Availability
Magic Partition Recovery is immediately available. North American pricing starts at $139. Local prices may vary. You can download Partition Recovery from manufacturer's Web site.
About East Imperial Soft
Founded in 2002, East Imperial Soft develops do-it-yourself data recovery products for Microsoft Windows. The company's wide range of recovery tools covers the needs of novice computer users and data recovery professionals. The company offers end-user solutions combining advanced technical capabilities with the level of usability allowing its products to be used by home users and data recovery professionals altogether.
An evaluation version of Magic Partition Recovery 1.0 is available as a free download at http://www.magicuneraser.com/