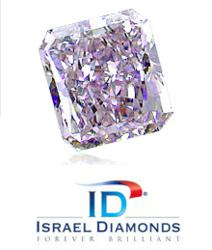 Fancy diamonds are unusual natural creations that make stunning pieces of jewelry...
Ramat-Gan, Israel (PRWEB) March 20, 2012
"April's birthstone is the diamond," said Amir Berman, chief executive officer of Israel-Diamonds.com. "We thought the best way we could help our loyal customers celebrate was to offer a 5-percent-off sale on our finest, fancy diamonds."
While anyone can give a standard white diamond to someone with an April birthday, Berman said fancy diamonds are rarities.
"Fancy diamonds are unusual natural creations that make stunning pieces of jewelry," Berman said. "When they are given as gifts, they show recipients just how special you think they are."
Fancy diamonds are often valued much higher than white diamonds due to their unique and vibrant colors.
Israel-Diamonds.com offers an extensive catalog of these rare stones in colors including green, pink, orange, yellow, brown and more. Customers can even special order specific types of fancy diamonds if they can't find exactly what they're looking for in Israel-Diamonds.com's online catalog.
"Making sure our customers have access to the finest wholesale loose diamonds and the best service are our top priorities at Israel-Diamonds," Berman explained. "We've earned a reputation for quality and service with an international clientele."
Selecting a fancy diamond through Israel-Diamonds.com's website is easy. So, too, is taking the chosen stone and turning it into a one-of-a-kind creation for the birthday recipient, Berman pointed out.
Israel-Diamonds offers its customers the ability to fully customize their jewelry selections. They can start out by selecting the stone of their choice via Israel-Diamonds' extensive online catalog. Once the stone is selected, they can explore a variety of custom settings for rings. Israel-Diamonds offers a large selection of platinum, yellow gold and white gold settings for customers to choose from.
After a setting and stone are selected, Israel-Diamonds' master jewelers will get to work creating a unique piece of jewelry customers can give as gifts or enjoy for a lifetime themselves.
"Our jewelers are even available to work directly with clients who want settings that differ from what we have in our online catalog," Berman said. "If a customer wants to design his or her own piece of jewelry from the ground up, we're happy to accommodate."
The 5-percent-off sale on fancy diamonds runs through April 18, 2012.
For more information about the fancy diamond sale or Israel-Diamonds, visit the company online at http://www.Israel-Diamonds.com.
About Israel-Diamonds.com
Founded in 1998, Israel-Diamonds.com is owned by Stargate Cyber Trading Ltd and is considered one of the world's leading diamond manufacturers. The company has more than four decades of experience in the diamond, colored stone and jewelry industries. Through its website, Israel-Diamonds.com offers buyers internationally access to exceptional pieces of fine jewelry, diamonds and gemstones. The company also provides its clients the ability to custom create their own pieces of jewelry, starting with premium wholesale loose stones.